Fallow – London – a MICHELIN Guide Restaurant

In the bustling city of London, a city renowned for its diverse culinary landscape, there exists a gem that captures the essence of sustainable dining – Fallow Restaurant. Located on St James's Market, Fallow is a restaurant that rises above the ordinary, championing a cause while pleasing palates with its exceptional cuisine. In this article, we dive deep into the enchanting world of Fallow, a noteworthy addition to the Michelin Guide.
Background
Fallow was established in 2020 by co-chefs Will Murray and Jack Croft, both of whom previously honed their skills at the renowned Dinner by Heston Blumenthal. They first launched Fallow as a pop-up at Carousel in Marylebone, before moving to a four-month residency at 10 Heddon Street. Eventually, the restaurant found its permanent home at St James's Market, drawing food enthusiasts who value sustainability without compromising taste and quality.
Sustainable Philosophy
Central to Fallow's ethos is its commitment to sustainable gastronomy. The restaurant derives its name from the farming practice of leaving a field fallow to allow the soil to regenerate naturally. This philosophy resonates throughout their menu, which demonstrates a reverence for nature and a commitment to reducing food waste.
Fallow's approach is rooted in nose-to-tail and root-to-stem cooking, which means every part of an ingredient, whether it's an animal or plant, is used to create dishes. This approach not only minimizes waste but also inspires creativity, leading to an innovative and frequently changing menu.
Culinary Experience
The food at Fallow is an exciting exploration of flavours, textures, and unexpected combinations, created from seasonal British ingredients. Their menu offers a selection of small plates designed for sharing, allowing guests to experience a broader range of tastes.
Notable dishes include the signature 'Fallow Deer Tartare', which combines the earthiness of the deer with the tanginess of pickles and the creaminess of egg yolk. Vegetarian dishes shine as well, such as the 'Celeriac Shawarma', a clever plant-based twist on the Middle Eastern classic.
A meal at Fallow is not complete without experiencing their unique desserts. The 'White Chocolate with Miso and Caramel' is a testament to the chefs' ability to marry sweet and savoury components.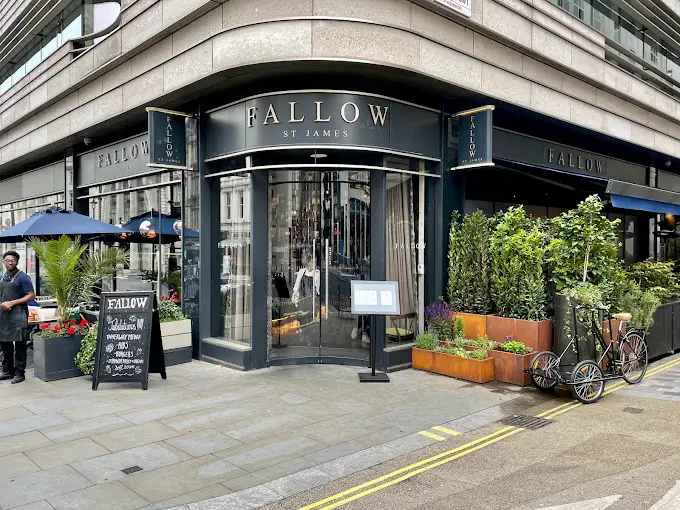 Beverages
Complementing the food is an impressive beverage list. Fallow's wine selection is meticulously curated, featuring organic and biodynamic wines from vineyards practicing sustainable viticulture. For the more adventurous, there's a range of craft cocktails that echo the restaurant's ethos of creativity and sustainability.
Décor and Ambience
Fallow's decor reflects its commitment to simplicity and sustainability. The restaurant boasts a minimalist design with earthy tones and natural textures, creating a relaxed and welcoming environment. The open kitchen serves as a focal point, allowing diners to witness the chefs in action and experience the passion and precision that goes into each dish.
Recognition
Despite its recent establishment, Fallow's unique concept and extraordinary culinary offerings have gained significant recognition. The restaurant's innovative approach to sustainable dining has earned it a place in the esteemed Michelin Guide, a testament to its exceptional quality and commitment to pushing culinary boundaries.
Service
Fallow places a strong emphasis on providing warm, friendly, and attentive service. The knowledgeable staff are passionate about the restaurant's ethos, taking the time to explain the concept behind each dish and offering recommendations based on the guests' preferences.
Fallow is more than just a dining experience; it's a statement about what modern, conscious dining can and should be. By highlighting the potential of overlooked ingredients and reducing waste, it challenges norms and encourages a more sustainable approach to food.
In a city with a culinary scene as dynamic as London, Fallow stands out, not just for its innovative and mouthwatering dishes, but also for its steadfast commitment to sustainability. The restaurant's inclusion in the Michelin Guide is a well-deserved recognition of the skill and creativity of its chefs, and their ambition to create a positive impact through food.
From the carefully curated menu to the thoughtful interior design and exceptional service, Fallow offers a memorable and inspirational dining experience. For food enthusiasts seeking a culinary adventure that satisfies the palate and the conscience, Fallow is a must-visit destination on London's gastronomic map.