Hilton Head Island Travel Guide: Discover the Best Vacation Experiences and Trip Ideas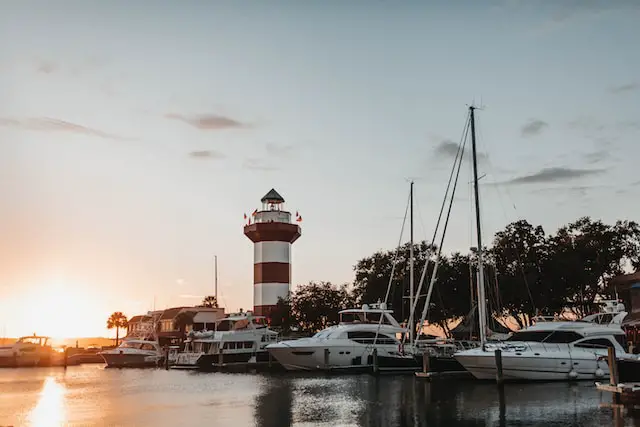 As you step onto the pristine, sandy beaches of Hilton Head Island, you immediately begin to understand why this island in South Carolina is considered one of America's favorite vacation spots. Hilton Head Island offers a kaleidoscope of experiences ranging from captivating natural beauty to world-class golf, making it the perfect destination for everyone.
Beach Retreats
Hilton Head Island, blessed with 12 miles of beaches, is a paradise for lovers of sand and surf. There are numerous public beach access points, and each beach offers a unique experience. Coligny Beach Park, the most popular, is perfect for families with its splash pad, swings, and boardwalk. Further north, Driessen Beach Park offers quieter surroundings for sunbathing or strolling along the shore.
For a secluded experience, consider visiting Mitchellville Beach Park. This lesser-known gem offers a more serene atmosphere, surrounded by live oaks and palmettos, and is an excellent place for birdwatching and collecting seashells. Don't miss the mesmerizing sunrise here – an experience that will stay etched in your memory forever.
World-class Golfing
Golfers will feel right at home in Hilton Head Island. Known as one of America's top golf destinations, the island offers more than 20 world-class golf courses. Harbour Town Golf Links, home of the RBC Heritage PGA TOUR event, is a must-visit. This challenging course, designed by Pete Dye and Jack Nicklaus, offers stunning vistas of the Calibogue Sound and the Harbour Town Lighthouse.
Another notable golf course is the Robert Trent Jones course at Palmetto Dunes. This oceanfront course offers scenic views of the Atlantic, and with its extensive lagoonal system, it's a unique test of skill. Beginners or those looking to improve their game can take advantage of the island's numerous golf schools and clinics.
Exploring Nature
Nature lovers are spoiled for choice in Hilton Head Island. The 605-acre Sea Pines Forest Preserve offers walking and biking trails that meander through marshes, lakes, and forests. This preserve is home to various wildlife, including alligators, birds, and deer. There are also historic sites within the preserve, like the 4,000-year-old Sea Pines Shell Ring, listed on the National Register of Historic Places.
A visit to the Pinckney Island National Wildlife Refuge is equally rewarding. This 4,053-acre refuge is home to a variety of habitats, including salt marsh, forestland, and freshwater ponds, hosting an array of wildlife. Birdwatchers especially will enjoy spotting species such as painted buntings, egrets, herons, and bald eagles.
Water Sports and Adventures
Hilton Head Island isn't just about relaxation; it's a paradise for adrenaline junkies too. Kayaking, paddleboarding, surfing, and parasailing are just a few of the exciting water sports you can indulge in. Outfitters like Hilton Head Outfitters and Outside Hilton Head offer equipment rentals and guided tours for every skill level.
For an unforgettable experience, consider a dolphin watching tour. Dolphins are a common sight in the waters around Hilton Head, and there are numerous charter companies that offer guided tours. Seeing these magnificent creatures in their natural habitat is a genuinely magical experience.
Culinary Delights
Hilton Head Island offers a dynamic food scene that is sure to satiate every palate. The island's coastal location means fresh seafood is always on the menu. Local specialties include Lowcountry boil (a one-pot dish of shrimp, sausage, corn, and potatoes), she-crab soup, and oysters. Check out local favorites like Hudson's Seafood House on the Docks, Skull Creek Boathouse, and the Crazy Crab for some of the best seafood offerings. For those interested in more international flavors, there are also several Italian, French, Mexican, and Asian restaurants scattered throughout the island.
Shopping and Local Crafts
For those who love shopping, Hilton Head Island offers an array of options, from designer boutiques to quirky souvenir shops. The Tanger Outlets are a paradise for bargain hunters, while Coligny Plaza offers a mix of shopping and entertainment. For a unique memento, look for the sweetgrass baskets, a local handicraft that dates back to the West African ancestors of the island's Gullah Geechee people. These intricate baskets, made from local sweetgrass, are both functional and decorative.
Cultural Immersion
To immerse yourself in the rich culture and history of Hilton Head, visit the Coastal Discovery Museum. It offers fascinating exhibits on the island's natural and cultural history, including its indigenous peoples, colonial past, and its unique ecology. Another cultural hotspot is the Gullah Museum of Hilton Head, where you can learn about the island's Gullah Geechee community and their rich African heritage.
If you visit in October, don't miss the annual Historic Bluffton Arts and Seafood Festival. It is a week-long event featuring locally harvested seafood, delicious Lowcountry cuisine, rich history, and culture, and more than 100 artists from around the country showcasing their work.
Cycling Around
One of the best ways to experience Hilton Head Island is by bike. With over 60 miles of multi-use trails connecting all corners of the island, cycling is a popular activity for both locals and visitors. You'll find bike rentals available all over the island, and many offer delivery and pick-up services for added convenience. Biking along the beach at low tide is a unique experience you won't want to miss.
Planning Your Trip
Hilton Head Island enjoys a temperate climate year-round, making it an excellent destination at any time. However, Spring and Fall are considered the best seasons to visit, offering mild temperatures and less crowd. While summer can be hot and humid, the ocean breeze makes it comfortable, and it's a popular time for families with school-age children.
Hilton Head Island, with its natural beauty, diverse activities, and rich culture, truly has something for everyone. Whether you're seeking a relaxing beach vacation, an adventure-packed holiday, a golfing retreat, or a culinary exploration, you'll find it on Hilton Head Island. So start planning your trip now and get ready to create some unforgettable memories on this charming island.