How to Travel to Charlotte on a Budget
When planning a trip on a budget, the destination is critical, and Charlotte, North Carolina, is an excellent choice. A bustling city with a diverse array of cultural, historical, and entertainment offerings, Charlotte is not only rich in experiences, but also affordable for the budget traveler. Here's how you can make the most of a trip to Charlotte without draining your wallet.
Planning Your Trip
Firstly, it's crucial to plan your trip ahead of time. This doesn't just involve booking flights and accommodation but also outlining a tentative itinerary based on your budget. Remember, the goal isn't to minimize costs at the expense of enjoyment; instead, focus on maximizing value.
Getting There
If you're traveling from a considerable distance, flying might be the best option. To secure the best deals, book your flight several months in advance and use flight comparison tools like Skyscanner, Google Flights, or Expedia. You can often find cheaper flights if you're flexible with your travel dates or willing to take flights with stops.
Getting Around
Once in Charlotte, consider using public transportation or even bicycles for local travel. The Charlotte Area Transit System (CATS) operates buses and a light rail system that can get you to most tourist spots in the city. A one-day unlimited ride pass is available at a reasonable price. Also, the city's B-cycle program offers bike rentals, and it's a great way to get around while also enjoying Charlotte's beautiful weather and scenery.
Accommodation
Accommodation can be one of the biggest expenses while traveling. In Charlotte, you'll find a variety of options to fit your budget:
Hostels and Budget Hotels: These are ideal if you're traveling solo or are comfortable sharing space with others. Look for ones located close to CATS routes to save on transportation.
Airbnb: Renting a room or a small apartment through Airbnb can be an affordable option, especially if you're traveling as a group.
Camping: If you're up for an adventure, there are several campgrounds in the Charlotte area. Many have amenities like Wi-Fi, laundry, and swimming pools.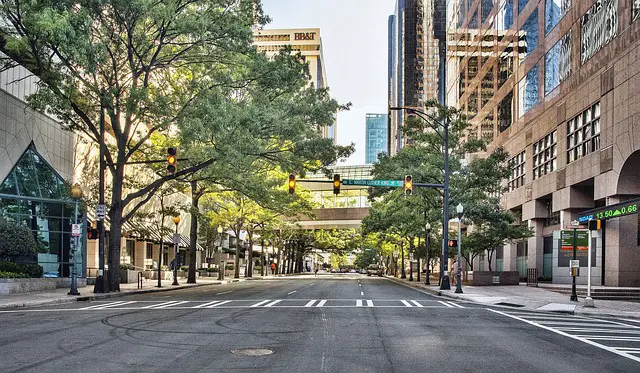 Eating and Drinking
Charlotte's culinary scene is vibrant, with a range of options from food trucks to high-end restaurants. But, you don't have to break the bank on food:
Cook for Yourself: If you have access to a kitchen, consider cooking some of your meals. Visit local farmers markets for fresh, affordable produce.
Food Trucks: They offer an affordable way to sample local cuisine. Check out Food Truck Friday in South End.
Local Specials: Look out for local specials and happy hours at restaurants and breweries. Some places offer discounted meals on specific days.
Attractions and Activities
Charlotte has plenty of free or low-cost attractions:
Free Museums: The Mint Museum is free on Wednesday evenings, and the Charlotte Museum of History offers a monthly free day.
Nature: Visit the many parks and greenways in Charlotte. Freedom Park is a local favorite and often hosts free events and concerts.
Art: Take a self-guided tour of public art around the city, or visit the galleries in NoDa, Charlotte's arts district.
Discount Cards
Consider purchasing a Charlotte CityPASS if you plan to visit multiple paid attractions. This pass offers significant savings on admission fees at venues like the Discovery Place Science, NASCAR Hall of Fame, and the Carolina Aviation Museum.
In conclusion, a budget trip to Charlotte requires a bit of planning and the willingness to be flexible. Use public transportation, choose budget-friendly accommodation and meals, and take advantage of the city's many free or low-cost attractions. Traveling on a budget doesn't mean you have to skimp on fun or memorable experiences. In fact, it often leads to more authentic and enriching experiences, as you'll be immersing yourself in the local lifestyle more deeply.
When you're exploring Charlotte, be sure to venture outside of the typical tourist areas. Some of the city's most vibrant neighborhoods, like Plaza Midwood and NoDa (North Davidson), are a bit off the beaten path but offer an eclectic mix of food, entertainment, and culture. Eating in these areas can often be cheaper than downtown, and you'll get to experience the local Charlotte scene.
Additionally, don't forget to check out local event listings. The city often hosts free or low-cost events, including festivals, concerts, and outdoor movie nights, particularly during the summer months. Participating in these events can offer a taste of local culture and community spirit, and also provide inexpensive entertainment.
When it comes to shopping, skip the high-priced tourist shops and head to one of Charlotte's many thrift stores or flea markets. You'll not only save money, but you might also find unique souvenirs and items that are more representative of your trip.
Also, don't underestimate the joy of simple pleasures like picnicking in one of the city's beautiful parks or taking a scenic bike ride along the Little Sugar Creek Greenway. Sometimes, the best travel memories are made from these low-cost, immersive experiences.
Lastly, remember to balance frugality with enjoyment. It's okay to splurge a little on a special meal or an exciting activity if it's something you truly want to do. The goal of budget travel is to make your money go further, not to deprive yourself of the experiences you're most looking forward to.
With these tips in mind, you can enjoy everything Charlotte has to offer while sticking to a budget. You'll discover that the city's real charm lies not in its most expensive attractions, but in its local culture, vibrant neighborhoods, and southern hospitality. Traveling to Charlotte on a budget doesn't mean compromising on the quality of your experience. With careful planning and savvy choices, you can have an unforgettable trip to the Queen City without breaking the bank.