Quezon City, Philippines Travel Guide

Quezon City, often referred to as QC, is the largest city in terms of population and land area in Metro Manila, Philippines. It's a city that boasts a harmonious blend of the urban and the historical, of bustling markets and serene parks, of food hubs and cultural landmarks. Here's a comprehensive travel guide to help you navigate and enjoy the diverse experiences Quezon City offers.
History and Background

Named after the second President of the Philippines, Manuel L. Quezon, the city was originally intended to be the country's new capital, replacing Manila. This dream was partially realized, with Quezon City serving as the capital from 1948-1976, after which Manila was reinstated. Its history is interwoven with the tapestry of the nation's story, and many landmarks stand testament to its significant past.
What to See and Do

Quezon Memorial Circle: Located at the heart of the city, this park houses the mausoleum of President Quezon. The towering monument offers a panoramic view of the city from its observation deck. The park is a favorite spot for morning joggers, picnickers, and families.
Visit the Universities: The University of the Philippines (UP) Diliman campus is not only a premier educational institution but also a hub for art and culture. The Oblation, a famous statue of a man with outstretched arms, is iconic. The campus also boasts the Vargas Museum and the UP Theater.
Explore Eastwood City: This is a commercial and residential hub that is always alive with activity. There are shopping malls, restaurants, bars, and occasionally, open-air concerts and events.
La Mesa Eco Park: This park provides a refreshing escape from urban life. Activities include boating, swimming, fishing, and trekking. It's also a hotspot for birdwatchers.
Art in Island: An interactive art museum where visitors can pose and become part of 3D artworks. It's a unique experience and a haven for those who love quirky photography.
Shop at the Weekend Markets: Sidcor Sunday Market and the Centris Sunday Market are famous for offering fresh produce, local crafts, clothes, and delicious street food.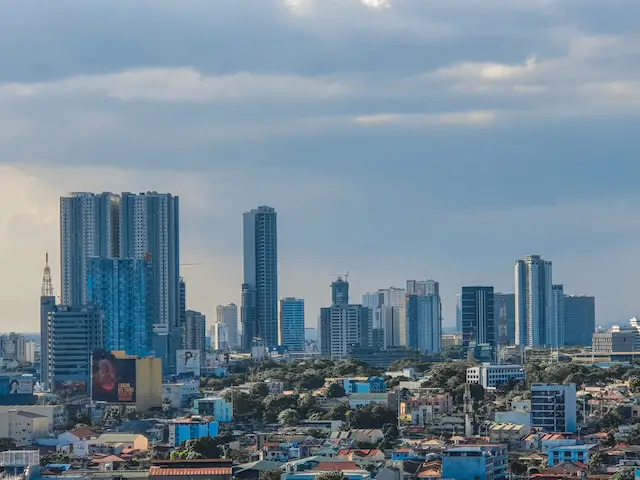 Where to Eat

Quezon City is a gastronomic wonderland. From street food to fine dining, there's something for everyone.
Maginhawa Street: This street has metamorphosed into a food lover's paradise. With numerous cafes, eateries, and themed restaurants, it offers a range of cuisines from Filipino to international.
Banapple: Known for its delicious pies, cakes, and other bakery items. Their banoffee pie is legendary.
Van Gogh is Bipolar: This restaurant not only serves mood-healing food but also offers an eccentric and therapeutic dining experience, reflecting the owner's journey with bipolar disorder.
Manam Comfort Filipino: For those looking to try traditional Filipino dishes with a twist, this is the place to be.
Nightlife and Entertainment

Tomas Morato and Timog Avenue: These areas are bustling with bars, clubs, and karaoke joints. They are popular spots for night owls and party-goers.
Cubao Expo: This is a retro-themed area with vintage shops, art galleries, and bars. Its laid-back atmosphere is perfect for those looking for a quieter night out.
The Araneta City: Home to the Smart Araneta Coliseum, it's a hub for concerts, sports events, and other big gatherings.
Accommodation

Quezon City offers a range of accommodations to fit every budget:
Luxent Hotel: A luxurious stay with a pool and other top-notch amenities.
Red Planet Aurora Boulevard: A budget-friendly option which doesn't compromise on comfort.
B Hotel Quezon City: A boutique hotel with stylish interiors and modern facilities.
Local Tips

Transportation: The city is serviced by jeeps, buses, and tricycles. While public transport is affordable, it can get crowded. Ride-sharing apps like Grab are popular and can be more convenient.
Weather: Being a tropical country, it's best to always carry an umbrella, as rain can be unpredictable.
Safety: Like any major city, always be aware of your belongings and avoid poorly-lit areas at night.

Quezon City is a microcosm of the Filipino spirit—resilient, vibrant, and ever-evolving. Its rich history juxtaposed with its modernity offers travelers a holistic experience. From its culinary delights to its cultural landmarks, QC is a destination that promises memories that will linger long after the trip is over. Whether you're a food enthusiast, a history buff, or someone looking for urban adventures, Quezon City welcomes you with open arms.
Culture and Festivals

Quezon City is rich in culture and regularly hosts events that showcase the Filipino spirit and creativity.
Panagbenga Festival: While originally celebrated in Baguio City, you can see echoes of it in QC with malls and establishments putting up floral displays in its honor. It's a celebration of the blooming season and showcases colorful floats and street dancing.
QCinema International Film Festival: This festival aims to provide a platform for filmmakers to showcase their work and introduce international films to the Filipino audience. It's a must-visit for cinema enthusiasts.
Feast of the Black Nazarene: Though primarily celebrated in Manila, many devotees from Quezon City participate in this religious procession, showcasing deep faith and devotion.
Shopping Experience

Trinoma and SM North EDSA: These are two of the biggest malls in the country, providing a wide array of shopping, dining, and entertainment options.
Dapitan Arcade: An underrated treasure trove for home décor. From native crafts to elegant furniture, it's a haven for those looking to buy unique items for their homes.
Commonwealth Market: A traditional market where you can find fresh produce, seafood, local snacks, and even clothes and accessories at bargain prices.
Off-the-beaten-path in QC

Ninoy Aquino Parks and Wildlife Center: A green oasis in the city, this park houses a variety of native plants and animals. It's a perfect spot for a leisurely walk or a family day out.
Philippine Science Centrum: A hidden gem for science enthusiasts. This interactive museum makes learning fun with hands-on exhibits on physics, chemistry, and other sciences.
Roces Avenue: This area offers a glimpse into the ancestral homes of the Philippines, many of which have been converted into fine dining restaurants, giving visitors a taste of both history and delectable cuisine.
Travel Tips Revisited

Local Language: While Filipino and English are widely spoken, learning a few local phrases can enhance your experience and endear you to the locals.
Cultural Etiquette: Filipinos are known for their hospitality. A small gesture of thanks or appreciation goes a long way. Always respect local customs and traditions.
Stay Connected: Free Wi-Fi is available in most malls, cafes, and hotels. You can also buy a local SIM card for mobile data at a very affordable price.
Quezon City is a bustling metropolis that mirrors the Filipino journey from its historical roots to its aspirations of modernity. Every street corner, every food joint, every park, and every market tells a story. And while it may not always be on the top of tourist itineraries compared to places like Boracay or Palawan, QC offers an authentic, urban Filipino experience.
In Quezon City, you'll discover the heart and soul of the Filipino people: warm, welcoming, and ever resilient. So, pack your bags, come with an open heart, and let Quezon City surprise you in ways you'd never expect.