Rotterdam Travel Guide for Digital Nomads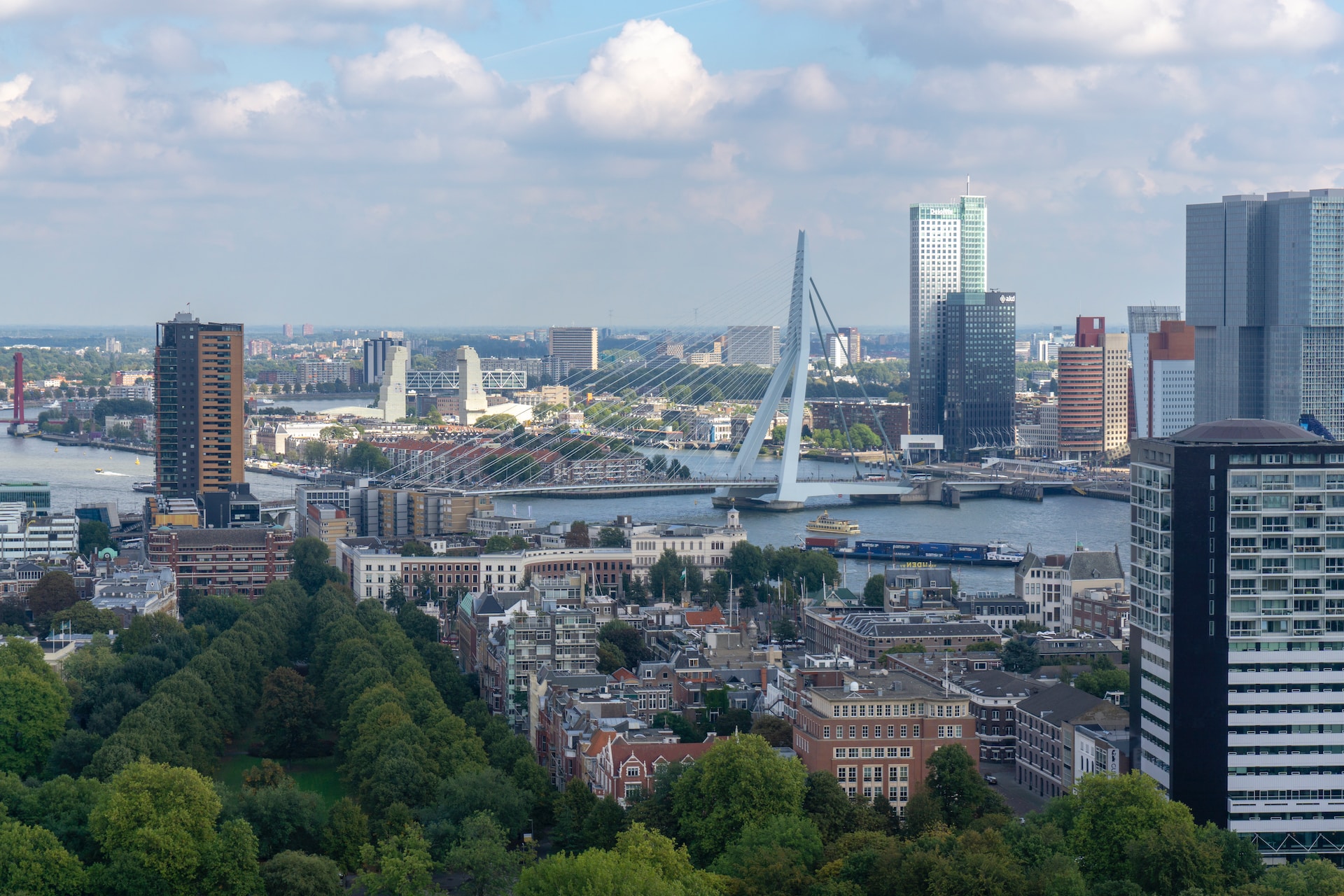 As digital nomadism surges in popularity, cities around the world are adapting to accommodate these modern workers. Among them, Rotterdam emerges as a top destination, with its unique blend of innovative infrastructure, cultural vibrancy, and strategic location. For the digital nomad seeking a blend of work and play, Rotterdam is a stellar choice.
Connectivity and Tech Infrastructure
Fast Internet: Rotterdam boasts high-speed internet in most areas, ensuring uninterrupted work. Many establishments like cafes and co-working spaces offer reliable Wi-Fi connectivity, a must for the remote worker.
Coworking Spaces: The city is home to several coworking spaces such as CIC Rotterdam and 42workspace, tailored to the needs of digital professionals. These spaces often host networking events, making them excellent grounds for collaboration and connection.
Affordability
While the Netherlands is not the cheapest European country, Rotterdam presents a more budget-friendly option than Amsterdam. Affordable accommodation, transportation, and dining options make it a sustainable choice for longer stays.
Work-Life Balance
Green Spaces: Between work hours, relax in parks such as Het Park or the Kralingse Bos, providing the perfect backdrop for relaxation or a casual stroll.
Cafes: Rotterdam's cafe culture is thriving. Establishments like Urban Espresso Bar and Lokaal are not just coffee destinations but also relaxed places to work from.
Networking Opportunities
Meetups: Regular networking events, workshops, and meetups are organized throughout the city. Platforms like Meetup.com feature groups specifically tailored for digital professionals in Rotterdam.
Startup Scene: Rotterdam's evolving startup ecosystem, supported by hubs like Erasmus Centre for Entrepreneurship, offers ample opportunities for collaboration and networking.
Cultural Experiences
After work, delve into Rotterdam's rich cultural tapestry:
Museums: The Kunsthal and Boijmans Van Beuningen museum are must-visits for art enthusiasts.
Architecture Tours: Explore Rotterdam's modern architectural marvels like the Cube Houses and the Markthal.
Accessible Transport
The OV-chipkaart is a blessing for digital nomads. This one card grants access to trams, buses, and metros. Plus, Rotterdam's bike-friendly streets make cycling a convenient transport mode.
International Community
Given its status as a global port city and its academic institutions like Erasmus University, Rotterdam boasts a diverse international community. This multicultural environment makes integration easier for nomads from various backgrounds.
Food and Dining
Rotterdam's culinary scene is a blend of traditional Dutch fare and international cuisines, catering to diverse palates. Food markets like Fenix Food Factory offer artisanal food products, while the streets brim with eateries, from vegan cafes to global restaurants.
Language
While Dutch is the official language, English is widely spoken, especially in business circles, making it easier for non-Dutch speaking nomads to communicate and work.
Safety
Rotterdam is relatively safe for residents and travelers alike. As with any city, it's essential to be aware of your surroundings, especially at night, but the general atmosphere is welcoming and secure.
Nearby Getaways
Being in the heart of Europe, Rotterdam offers easy access to other destinations. A short train or bus ride can lead you to cities like Amsterdam, Brussels, or Antwerp. For those seeking nature, the Dutch countryside and beaches are within reach.
Learning and Growth
Rotterdam's institutions, like Erasmus University and Codarts, often host seminars, workshops, and courses that can be beneficial for skill enhancement and personal growth.
Fitness and Well-being
For the health-conscious nomad, the city provides fitness centers, yoga studios, and meditation centers. The Kralingse Plas is a popular spot for jogging, sailing, and other recreational activities.
Nightlife and Entertainment
From theaters like Theater Rotterdam to clubs like Annabel, the city's entertainment spectrum ensures that there's always something happening post-work.
Accommodation
Options like short-term rental apartments, hostels, and shared living spaces cater to different budget needs. Platforms like Airbnb also offer numerous listings in prime city locations.
Rotterdam, with its avant-garde spirit, efficient infrastructure, and vibrant community, has all the makings of a digital nomad's paradise. While it offers all the conveniences of a modern city, it retains a charm that makes living and working here a unique experience. As the lines between work and travel blur in the digital age, Rotterdam stands out as a city that not only understands but also caters to the evolving needs of the modern professional. Whether you're a developer, designer, writer, or entrepreneur, Rotterdam invites you to set up your digital workstation amidst its inspiring backdrop.
Seasonal Considerations
Rotterdam's weather varies with the seasons, and digital nomads should be mindful of these changes:
Summer: Warm and pleasant, summer is an ideal time for outdoor activities. Many festivals and events occur during this period, adding to the city's vibrancy.

Winter: The winters can be chilly and damp, but Rotterdam's indoor attractions, cafes, and museums continue to beckon. Consider cozy co-working spaces for productive workdays during this season.

Spring and Autumn: These transitional seasons offer mild weather, suitable for both work and leisure activities. They're often less crowded, providing a more relaxed experience.
Visa and Regulations
For digital nomads from non-EU countries, understanding the visa requirements and regulations is crucial. The Netherlands offers various visa options, and consulting with a local embassy or consulate will provide guidance tailored to individual circumstances.
Health and Medical Facilities
Rotterdam is equipped with modern healthcare facilities. Health insurance that covers the duration of the stay is advisable, as medical care in the Netherlands is not free for non-residents. Pharmacies and medical centers are easily accessible for minor ailments.
Shopping and Daily Needs
From high-street brands to local markets, Rotterdam's shopping scene caters to all tastes and budgets. For daily groceries, stores like Albert Heijn and Jumbo are prevalent, while local markets offer fresh produce.
Special Needs and Accessibility
Rotterdam is progressively making strides in accessibility for individuals with disabilities. Public transport, main attractions, and many coworking spaces are designed to accommodate special needs, ensuring an inclusive environment.
Sustainability in Rotterdam
The city's commitment to sustainability aligns with many digital nomads' eco-conscious lifestyles:
Recycling Facilities: Separate disposal for glass, paper, and plastic is common.

Bike-Friendly Roads: Cycling reduces carbon footprint and integrates you with the local culture.

Sustainable Dining Options: Many restaurants emphasize local and organic produce.
Libraries and Educational Spaces
For those who prefer working in a quiet environment, libraries like the Rotterdam Public Library offer an excellent alternative to co-working spaces.
Universities often have open lectures and educational events that could be of interest to the learning-oriented nomad.
Pets and Pet Care
If traveling with pets, finding pet-friendly accommodation in Rotterdam is relatively easy. Parks and recreational areas often accommodate pets, and pet care services are available for those busy workdays.
Family-Friendly Options
For digital nomads with families, Rotterdam offers an array of family-friendly activities. From the Rotterdam Zoo to interactive museums and spacious parks, children and spouses will find engaging ways to enjoy the city.
Final Thoughts and Reflection
Rotterdam encapsulates what a 21st-century city should be – innovative, inclusive, vibrant, and adaptive. It recognizes the needs of a modern digital workforce and offers amenities, connections, and inspirations that foster growth and creativity.
The city is not just a temporary workstation but a place that invites you to immerse, interact, and innovate. Its blend of culture, community, and convenience resonates with the digital nomad's ethos of work, exploration, and connection.
Choosing Rotterdam as your digital nomad base means embracing a lifestyle that aligns with progress, sustainability, and global mindedness. In Rotterdam, every street, building, and canal narrates a story of resilience and ambition, making it more than a travel destination – a place that feels like home, even if temporary. In the heart of Europe, with the world at your fingertips, Rotterdam awaits your next big project, idea, or innovation.