West End Theatre District (London) Travel Guide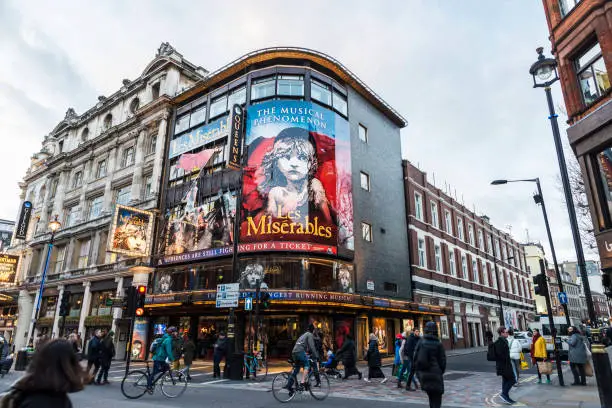 The West End of London, often simply referred to as "The West End", is synonymous with culture, sophistication, and above all, theatre. Since the 16th century, the West End has been the beating heart of London's arts scene. Home to some of the world's most iconic theatres and historic performances, this vibrant district promises a memorable experience for theatre enthusiasts and casual visitors alike.
History
London's West End Theatre District began its life in the early 1570s with the establishment of the first public playhouse, The Theatre, in Shoreditch. However, it was the 19th and 20th centuries that truly saw the West End come into its own as the epicenter of the theatrical world. From Victorian melodramas and Shakespearean classics to the present day's musical extravaganzas, the West End has consistently been at the forefront of showcasing world-class talent and productions.
Exploring the Theatres
The Royal Opera House: A historic venue in Covent Garden, this opera house offers a blend of ballet and opera performances. Its grand architecture and lavish interiors are a spectacle in themselves.
The National Theatre: Located on the South Bank, it's one of the UK's most prominent publicly funded theatre venues. With multiple stages, it offers a diverse range of plays and performances.
The Lyceum Theatre: Hosting one of the most iconic shows, "The Lion King", for years, the Lyceum is a must-visit for those who love grand musicals.
The Globe Theatre: An ode to Shakespeare, this modern reconstruction of the original Elizabethan theatre offers a unique experience, especially for fans of the bard.
Must-See Shows
The West End is famed for its long-running shows, with some being staged for decades. Shows like "Les Misérables", "Phantom of the Opera", and "The Lion King" have been crowd pullers for years. However, the district is also known for welcoming fresh and innovative performances, ensuring that there's always something new to watch.
For a true West End experience, consider booking a show at least a couple of months in advance, especially for popular performances. Matinee performances are a great way to enjoy the theatre if you're looking for a more budget-friendly option or want to avoid evening crowds.
Dining in the District
A visit to the West End isn't complete without indulging in some of the fine dining options available. From pre-theatre menus to late-night eateries, there's a culinary experience for every palette.
The Ivy: Located in Covent Garden, The Ivy offers a luxurious dining experience with its British-centric menu and an atmosphere that oozes class.
Brasserie Zédel: Nestled near Piccadilly Circus, this French brasserie provides affordable yet delicious meals, perfect for pre or post-theatre dining.
Dishoom Covent Garden: Paying homage to the Irani cafés of Bombay, Dishoom offers an eclectic mix of Indian dishes.
Tips for Travellers
Booking in Advance: Popular shows and performances can sell out months ahead. Ensure you book your tickets in advance to avoid disappointment.
Dress Code: While most theatres don't have a strict dress code, smart-casual wear is recommended. Some upscale venues might expect a slightly more formal attire.
Stay Nearby: Consider staying in or around the West End to immerse yourself in the theatrical atmosphere fully. Many hotels offer theatre packages, which might include tickets to shows.
Stage Door Experience: If you're a fan of an actor or want to compliment a performance, wait by the stage door post-show. It's a long-standing tradition where actors often come out to sign autographs and meet fans.
The West End Theatre District is not just about stages and spotlights; it's about the magic that comes alive when the curtains rise. Whether you're an ardent theatre lover or someone who just wants to soak in London's rich culture, the West End promises an experience that stays with you long after the final bow. So, put on your finest attire, walk the historic lanes, and let the world of drama, music, and dance captivate your senses.
Beyond the Curtains: Exploring the West End
While the performances are undeniably the main attraction, the West End offers much more for the discerning traveler. The district pulsates with life, offering an array of experiences beyond the theatre.
Shopping in the West End
From boutique stores to famous retail hubs, shopping in the West End is a treat.
Regent Street and Oxford Street: Known worldwide, these bustling streets boast flagship stores of global brands. Whether it's high-end fashion or high street trends, you'll find it here.
Carnaby Street: A hub of British fashion during the Swinging Sixties, this street remains a haven for those who love boutique shops and unique finds.
Covent Garden Market: Beyond its theatres, Covent Garden entices with its market. Here, you can buy unique trinkets, artisanal crafts, and gourmet foods.
Bars and Nightlife
The West End isn't just about theatre and shopping; it also promises a vibrant nightlife.
The London Cocktail Club: With a diverse cocktail menu and a buzzing ambiance, this bar is a favorite among locals and tourists alike.
Café de Paris: If you fancy a bit of cabaret with your cocktail, this iconic venue is a must-visit.
Ronnie Scott's Jazz Club: Located in Soho, it's one of the world's most famous jazz venues, offering live performances in an intimate setting.
Cultural Stops
Leicester Square: Known for hosting UK film premieres, it's a spot where you might just catch a glimpse of celebrities walking the red carpet.
The British Museum: A short walk from the theatre district, this world-famous museum houses a vast collection of world art and artefacts.
Libraries and Bookshops: The West End is home to several historic bookshops and the iconic British Library, where literary enthusiasts can delve into rare manuscripts and first editions.
Guided Tours
For those who wish to delve deeper into the history and secrets of the West End, guided tours are available. These tours, led by knowledgeable guides, offer behind-the-scenes looks at famous theatres, tales of legendary performances, and stories of the stars who graced the stages.
Preparing for Your Visit
Transport: The West End is well-connected by London's extensive Underground network. Stations like Leicester Square, Covent Garden, and Piccadilly Circus place you right in the heart of the action. Buses are also a convenient option.
Weather: London's weather can be unpredictable. Always carry an umbrella, and wear layers to easily adapt to changing conditions.
Accessibility: Most of the newer theatres and venues are wheelchair accessible. However, due to the historic nature of some buildings, it's recommended to check accessibility options beforehand.
The West End is more than a theatre district; it's a microcosm of London's rich cultural tapestry. From the echoing applause in historic theatres to the clink of glasses in bustling bars, every corner tells a story. Whether you're here for the plays, the history, the shopping, or the sheer ambiance, the West End guarantees memories that last a lifetime. So let the allure of the footlights guide you, and dive into the enchanting world of London's West End.