Where to Eat, Stay, and Explore in Bonaire

Bonaire, a hidden gem in the Caribbean Sea, is a paradise for travelers seeking natural beauty, vibrant marine life, and a laid-back atmosphere. This Dutch Caribbean island is renowned for its crystal-clear waters, world-class diving opportunities, and captivating landscapes. Whether you're an adventure enthusiast, a nature lover, or simply seeking a relaxing getaway, Bonaire has something for everyone. In this comprehensive guide, we'll explore where to eat, stay, and explore in Bonaire, ensuring that your visit to this island paradise is nothing short of extraordinary.
Where to Eat
Bonaire's culinary scene is a delightful fusion of Dutch, Caribbean, and international flavors. From quaint seaside eateries to upscale dining establishments, here are some top picks for where to savor the island's culinary delights:
It Rains Fishes: This iconic restaurant offers an unbeatable dining experience right on the water's edge. Enjoy fresh seafood while watching the sunset. Don't miss their catch of the day and a selection of creative cocktails.
Boudoir: For a touch of French elegance, head to Boudoir. This charming restaurant is known for its delectable French-Caribbean fusion cuisine. The intimate atmosphere and exceptional wine list make it perfect for a romantic evening.
Ingridients: Located in the heart of Kralendijk, Ingridients serves a mix of local and international dishes made from fresh, locally-sourced ingredients. The farm-to-table concept ensures a memorable dining experience.
Karels Beach Bar: If you're looking for a casual beachfront spot, Karels is the place to be. Enjoy a cold beer, a plate of delicious ribs, and the relaxed vibe of this beloved beach bar.
Cuba Compagnie: For a taste of Cuba in the Caribbean, visit Cuba Compagnie. This lively restaurant offers Cuban-inspired dishes, cocktails, and live music on select nights.
Bobbejan's BBQ: Experience authentic Caribbean barbecue at Bobbejan's. Situated in a colorful food truck, this spot is famous for its succulent ribs and flavorful marinades.
Food Trucks at Kralendijk: Don't miss the opportunity to explore the diverse offerings of food trucks scattered around Kralendijk. From local cuisine to international flavors, these trucks offer a unique culinary adventure.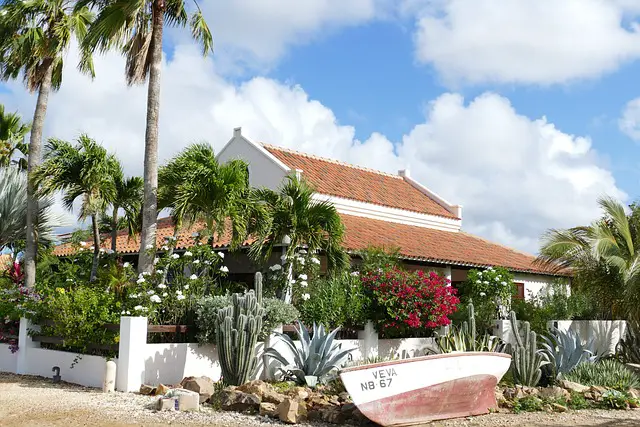 Where to Stay
Choosing the right accommodation is crucial for a memorable vacation. Bonaire offers a range of options to suit different preferences and budgets, from luxury resorts to eco-friendly lodges:
Harbour Village Beach Club: This luxurious beachfront resort offers impeccable service, a private white-sand beach, and a full range of amenities, including a spa, dive shop, and on-site dining.
Buddy Dive Resort: Ideal for divers, Buddy Dive Resort offers comfortable apartments and a full-service dive center. The "Drive & Dive" package is perfect for those looking to explore the island's underwater wonders.
Divi Flamingo Beach Resort & Casino: Located in the heart of Kralendijk, Divi Flamingo offers a comfortable stay with a casino, on-site dining options, and easy access to the town's attractions.
Caribbean Club Bonaire: If you prefer a quieter and more eco-friendly atmosphere, consider staying at Caribbean Club Bonaire. This tranquil resort is set amid lush gardens and features self-catering villas and a relaxed pool area.
Sorobon Beach Resort: For windsurfing enthusiasts, Sorobon Beach Resort is the place to be. It's located on Lac Bay, a prime windsurfing spot, and offers comfortable bungalows right on the beach.
Airbnb and Vacation Rentals: Bonaire also has a variety of vacation rentals and Airbnb properties, ranging from cozy apartments in town to secluded beachfront villas. These options provide flexibility and a chance to live like a local.
Explore Bonaire
Beyond its culinary delights and comfortable accommodations, Bonaire is a paradise for outdoor enthusiasts and nature lovers. Here are some of the island's top attractions and activities:
Bonaire National Marine Park: This protected marine park is a diver's dream. Explore vibrant coral reefs, encounter diverse marine life, and swim alongside turtles, rays, and colorful fish. The park offers numerous dive sites suitable for all levels.
Washington Slagbaai National Park: Discover the island's rugged beauty at Washington Slagbaai National Park. Hike the trails, explore the historic slave huts, and take in panoramic views from the park's high cliffs.
Klein Bonaire: This uninhabited islet, just a short boat ride from Bonaire, is a haven for beach lovers and snorkelers. The pristine beaches and clear waters make it an ideal spot for a day trip.
Flamingo Sanctuary: Bonaire is home to one of the largest flamingo populations in the Caribbean. Visit the Pekelmeer Flamingo Sanctuary to witness these graceful birds in their natural habitat.
Windsurfing and Kitesurfing: Lac Bay on the eastern side of the island is famous for its consistent trade winds, making it a mecca for windsurfers and kitesurfers of all levels.
Donkey Sanctuary: Pay a visit to the Donkey Sanctuary and learn about the island's efforts to protect and care for its donkey population. You can even feed and interact with these gentle creatures.
Cave Exploration: Explore the island's caves, such as the Hato Caves, to discover fascinating stalactites, stalagmites, and underground chambers.
Mangrove Kayaking: Embark on a guided kayaking tour through Bonaire's mangroves to observe the unique ecosystem and spot juvenile marine life.
Cultural Exploration: Take a stroll through the charming streets of Kralendijk, visit historical sites like Fort Oranje, and immerse yourself in the island's rich history and culture.
Bonaire, with its natural beauty, vibrant marine life, and welcoming atmosphere, is a Caribbean paradise that beckons travelers seeking adventure, relaxation, and memorable experiences. Whether you're indulging in delectable Caribbean cuisine, staying in luxurious beachfront resorts, or exploring the island's natural wonders, Bonaire has something for everyone. This guide has provided you with a taste of what to expect on this enchanting island, but there's nothing like experiencing it for yourself. So, pack your bags and get ready for an unforgettable journey to Bonaire, where every moment is a new discovery in paradise.
Travel Tips for Bonaire
Before embarking on your journey to Bonaire, it's essential to be well-prepared. Here are some travel tips to help you make the most of your visit:
Travel Documents: Ensure you have a valid passport with at least six months of validity left before entering Bonaire. U.S. and European Union citizens do not need a visa for short stays.
Currency: The official currency in Bonaire is the U.S. dollar (USD). Credit cards are widely accepted, but it's a good idea to carry some cash for small purchases and in case you venture away from tourist areas.
Language: The official languages are Dutch and Papiamento, but English and Spanish are also commonly spoken, especially in tourist areas.
Weather: Bonaire enjoys a warm, tropical climate year-round, with temperatures ranging from 77°F to 88°F (25°C to 31°C). Hurricane season typically runs from June to November, so plan your trip accordingly.
Diving and Snorkeling: If you're planning to dive, consider bringing your own equipment. However, rental gear is widely available. Make sure to follow the island's marine park rules and regulations to protect the reefs.
Transportation: Renting a car is the most convenient way to explore the island. While Bonaire has public transportation, it may not be as frequent or reliable as in larger destinations.
Electricity: Bonaire uses 127V/50Hz electricity with American-style plugs (Type A and Type B). Travelers from countries with different plug types should bring adapters.
Health and Safety: Bonaire is generally considered safe for tourists. However, it's essential to stay hydrated, use sunscreen, and follow safety guidelines when participating in water activities.
Environmental Conservation: Bonaire takes conservation seriously. Respect the natural environment, dispose of trash properly, and avoid touching or damaging coral reefs.
Time Zone: Bonaire follows Atlantic Standard Time (AST) year-round and does not observe daylight saving time.
Bonaire, with its pristine beaches, incredible underwater landscapes, and diverse cultural experiences, offers an idyllic Caribbean getaway like no other. Whether you're an adventure seeker, a nature enthusiast, or simply someone looking to relax in a tranquil paradise, Bonaire has something to offer everyone. From exploring the colorful marine life to savoring the island's culinary delights and enjoying the warmth of its people, every moment on this Caribbean gem is a new adventure waiting to be discovered.
As you plan your trip to Bonaire, remember to book your accommodation, dining reservations, and any guided tours or activities in advance to ensure a seamless and enjoyable experience. With its stunning natural beauty and welcoming atmosphere, Bonaire is bound to leave you with cherished memories that will last a lifetime. So, pack your bags and embark on a journey to this enchanting island, where the allure of the Caribbean meets the wonders of the deep blue sea, and paradise becomes your reality.