20 Things You Need To Know About Visiting Singapore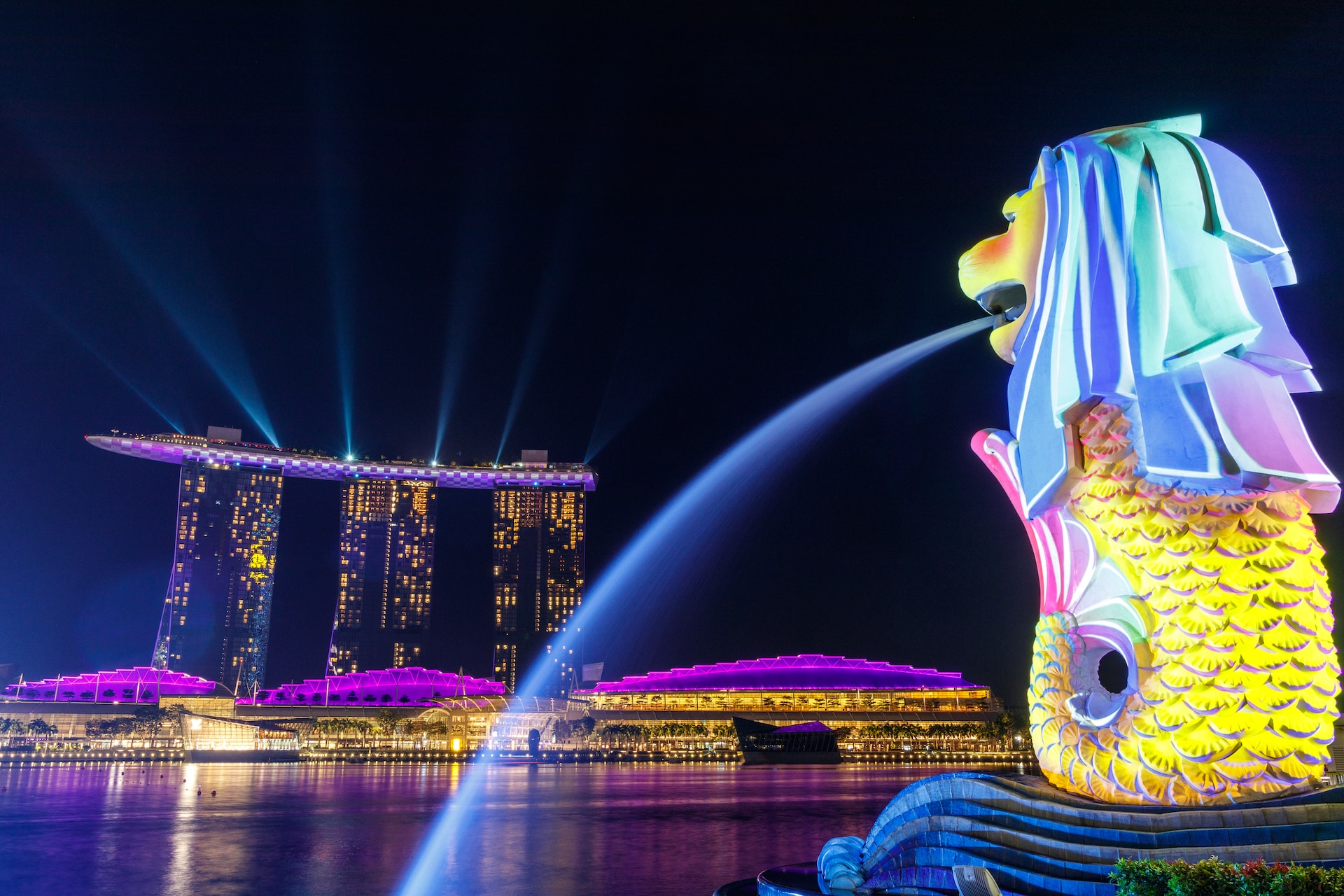 Singapore, often referred to as the "Lion City," is a city-state located at the southern tip of the Malay Peninsula in Southeast Asia. It is one of the world's most prosperous and developed countries. Despite its small size, Singapore is a global hub for finance, commerce, and transportation.
This city-state is known for its mix of cultures, primarily Chinese, Malay, and Indian, which contribute to a rich diversity in food, traditions, and festivals. Singapore is also renowned for its cleanliness and stringent rules, earning it the nickname of a "fine city" due to the numerous fines that can be levied for what are seen as antisocial behaviors like littering or jaywalking.
The education system in Singapore is well-regarded, and English is the medium of instruction, making it an accessible destination for international tourists and expatriates.
Singapore's impressive skyline is punctuated with high-rise buildings and architectural marvels like the Marina Bay Sands, an integrated resort known for its boat-like rooftop SkyPark, and the Gardens by the Bay with its colossal Supertrees and biodomes.
Changi Airport, one of the busiest and best airports worldwide, is often the first introduction to the city's efficient and impressive infrastructure for visitors.
Despite its urban development, Singapore has preserved and created many green spaces, including the Singapore Botanic Gardens, a UNESCO World Heritage Site. As a result, Singapore is often referred to as a "Garden City."
Singapore has a robust economy, highly developed infrastructure, and a transparent legal system, making it attractive for business and investment. However, it is also known for a high cost of living compared to other Southeast Asian countries.
Tourism is a significant part of Singapore's economy, with popular attractions including Sentosa Island, Universal Studios Singapore, Orchard Road shopping district, the ethnic enclaves of Little India and Chinatown, and the food paradise of hawker centers.
The country's tropical climate, which is warm and humid throughout the year, allows for year-round tourism. However, visitors should also be prepared for frequent rain showers, which can happen quite suddenly.
The Merging of Cultures: Singapore is known as the "melting pot of cultures," where several ethnic communities coexist harmoniously. You will notice vibrant communities of Chinese, Malays, Indians, and Eurasians, each with unique festivals, traditions, and cuisine. It's a wonderful place to explore a wealth of cultures in a relatively small area.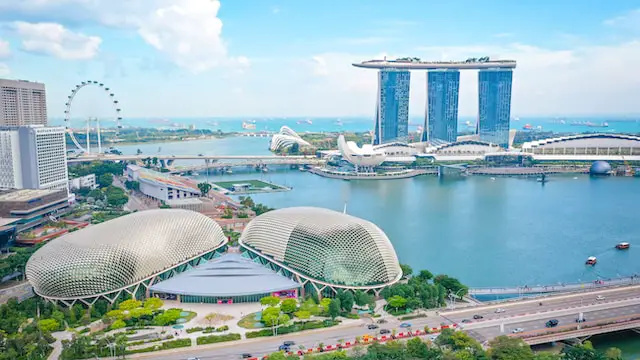 Food Heaven: When in Singapore, prepare for a gastronomic adventure. Hawker centers, an essential part of Singapore's culture, are open-air food complexes offering a vast array of cheap and delicious meals. Don't miss local delicacies like Chicken Rice, Chilli Crab, Laksa, and Roti Prata.
Clean and Green: Singapore is renowned for its cleanliness, green spaces, and environmental consciousness. The "Garden City" is home to several parks, gardens, and nature reserves such as the Botanic Gardens, a UNESCO World Heritage site, and the impressive Gardens by the Bay.
Impressive Skyline: The Marina Bay area offers an iconic cityscape. Visit Marina Bay Sands' SkyPark for a panoramic view, or head to the Merlion Park to snap pictures with Singapore's mascot – a mythical creature with a lion's head and a fish's body.
Shopping Paradise: From luxury boutiques in Orchard Road to budget shopping in Bugis Street and the hip boutiques in Haji Lane, Singapore offers a diverse shopping experience.
World-Class Attractions: Universal Studios, the SEA Aquarium on Sentosa Island, or the Singapore Zoo with its popular Night Safari – Singapore brims with attractions that cater to every age and interest.
Safety: Singapore ranks among the safest cities globally. Low crime rates, strict laws, and efficient enforcement agencies make it a secure destination for solo and family travelers alike.
Public Transportation: The public transportation in Singapore is highly efficient, affordable, and widespread. The Mass Rapid Transit (MRT) system is the most convenient mode to explore the city.
English is Widely Spoken: Although Singapore is a multicultural society, English is one of the official languages. Most Singaporeans are bilingual and can communicate effectively in English, making it easy for tourists to navigate the city.
Fines: Singapore is known for its strict rules. Eating or drinking in public transport, littering, or not flushing the toilet can result in hefty fines. It's crucial to be mindful of these rules during your visit.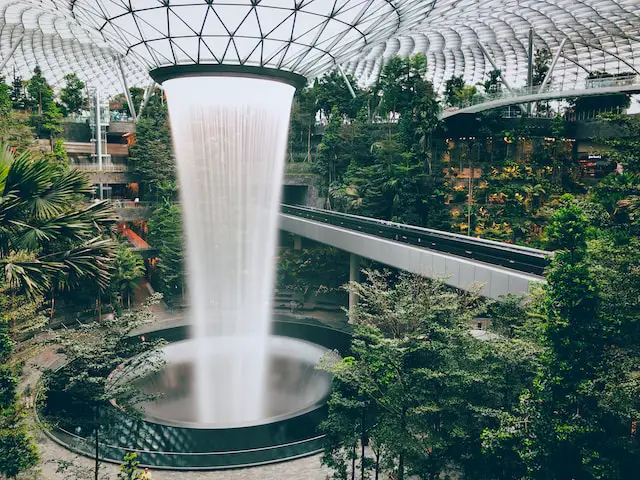 Climate: Singapore has a tropical rainforest climate with no distinctive seasons. It's hot and humid year-round, with short, heavy rainfall occurring almost daily. Carry an umbrella and wear light, breathable clothing.
Innovative Architecture: Singapore's skyline is an architectural wonder, blending colonial-era buildings with futuristic designs. Iconic structures include the Marina Bay Sands, the "durian"-shaped Esplanade Theatres, and the "Supertrees" at Gardens by the Bay.
Art and Museums: Singapore has a thriving arts scene. Visit the National Gallery, the ArtScience Museum, and Gillman Barracks to soak up local and international art.
Unique Neighborhoods: Each neighborhood in Singapore has its distinctive charm. Little India, Chinatown, Kampong Glam, and Tiong Bahru provide rich cultural and historical insights and great food.
Singapore Sling: Try the world-famous cocktail, the Singapore Sling, invented at the Raffles Hotel's Long Bar. You can still enjoy it there, but it's served in bars across the city.
Diverse Religious Sites: The diversity of faiths in Singapore is evident in the city's array of religious sites. Visit the Buddha Tooth Relic Temple, Sultan Mosque, or the Sri Mariamman Hindu Temple to witness this religious harmony.
High Cost of Living: Singapore is one of the world's most expensive cities. Food from hawker centers is a bargain, but accommodation, dining in restaurants, and alcohol can be costly.
Changi Airport: Frequently voted the world's best airport, Changi offers more than just flight services. The Jewel Changi, with its mesmerizing indoor waterfall, is a must-visit.
Sustainable City: Singapore has a robust waste management and recycling system, and the city is continually working on sustainable solutions like vertical farming and solar power.
Year-Round Events: There's always something happening in Singapore – Chinese New Year, Hari Raya, Diwali, or the Singapore Grand Prix. Check local listings to experience these vibrant celebrations during your visit.
Visiting Singapore is like stepping into the future, where tradition and technology coexist seamlessly. This compact city-state offers an unforgettable, culturally rich experience that seamlessly blends tradition, nature, and modernity.