Bainbridge Island Museum of Art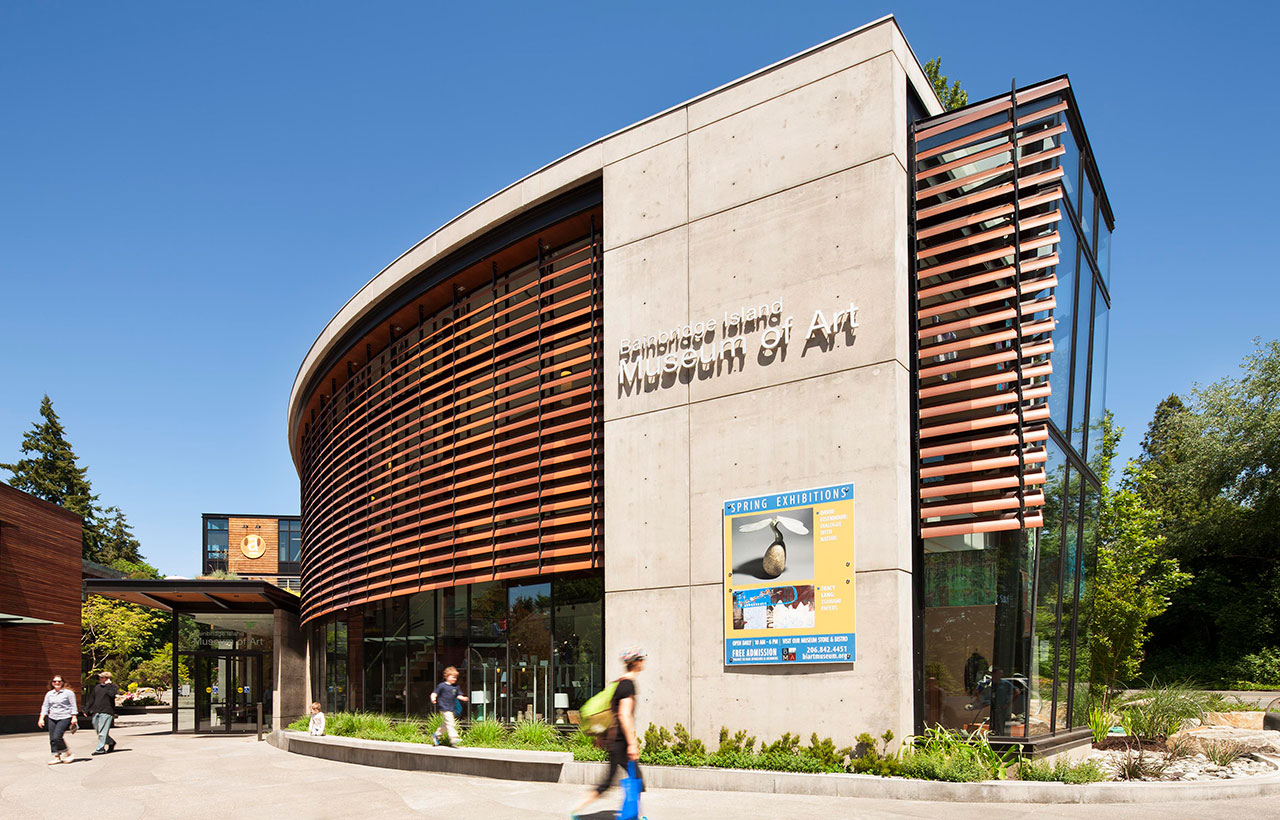 The Bainbridge Island Museum of Art (BIMA) is a cultural gem nestled in the heart of Bainbridge Island, Washington. Since its opening in 2013, BIMA has grown into an integral part of the community, drawing both locals and visitors from around the world to explore and appreciate contemporary art and craft.
BIMA's striking architecture sets it apart even before one steps inside. The building, a vision realized by architect Matthew Coates of Coates Design Architects, is a beautiful mix of modern design and sustainable elements. The three-story museum is encased in a graceful curvilinear glass form, allowing natural light to spill into the spaces within. As an environmentally responsible building, BIMA is LEED Gold certified, reflecting its commitment to sustainability.
Upon entering the museum, you are welcomed into a world of creativity and inspiration. BIMA boasts a diverse collection of contemporary art, primarily focused on artists and collections from the Puget Sound region. The artwork spans various mediums such as painting, print, sculpture, photography, metalwork, ceramics, fiber, wood, glass, and book arts, ensuring that there is something for everyone.
One of the standout features of BIMA is its dedication to showcasing emerging and lesser-known artists. The museum actively seeks out and curates works from artists who may not have had significant exposure, providing them with a platform to reach broader audiences. This commitment to nurturing talent adds a dynamic, ever-changing quality to BIMA's exhibitions, which rotate three times a year.
In addition to its array of galleries, BIMA houses the beautiful 95-seat auditorium known as the BIMA Bistro. Here, one can enjoy delicious meals crafted from locally-sourced ingredients. The BIMA Bistro not only offers a culinary treat but also contributes to the overall aesthetic experience with an art-filled dining space.
BIMA also offers a unique multisensory experience with its Sound & Vision Collection, a showcase of vinyl records and album cover art. This collection engages both the visual and auditory senses, providing a comprehensive exploration of the artistic expression within the music industry.
Education is a fundamental pillar of BIMA's mission. The museum provides numerous educational programs, workshops, and classes for all ages. BIMA believes in the transformative power of art and is dedicated to making it accessible to everyone. It offers Art in Action, a program that includes free art projects for children and families, and the Open Book Tours, a guided tour of artist books.
Furthermore, BIMA is home to the Museum Store that offers a selection of handcrafted jewelry, ceramics, textiles, and more from local artists. This is aligned with BIMA's emphasis on supporting and promoting regional artists and craftspeople.
Since its inception, BIMA has been a free-admission museum, a testament to its commitment to community, accessibility, and the belief that art should be available to all. This accessibility extends beyond the free admission, with the museum offering resources for self-guided tours, including materials for visually impaired visitors.
BIMA's impact extends beyond the walls of the museum. It regularly collaborates with other organizations for community events and festivals. Whether it's the annual Bainbridge Island Studio Tour, where local artists open their studios to the public, or community art projects, BIMA is a central figure in promoting art and culture within the region.
In summary, the Bainbridge Island Museum of Art is much more than a museum. It is a dynamic space for creative exploration, a platform for artists, a hub for community interaction, and a testament to sustainable architecture. Its emphasis on showcasing local and emerging artists, commitment to education and accessibility, and dedication to community engagement sets it apart. Whether you are an art aficionado, a curious tourist, or a local resident, BIMA promises an enriching, inspiring, and inclusive experience.