These are the 13 cheapest places in the U.S. to buy a beach house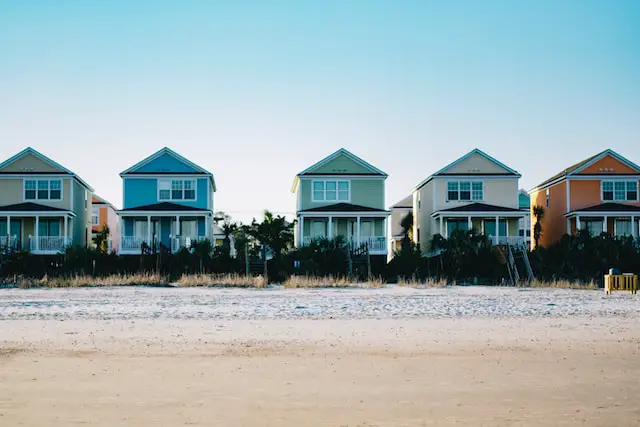 Buying a beach house in the United States is often associated with high-end real estate prices, but there are still plenty of budget-friendly options.
Let's take a tour of 13 of the most affordable places to buy a beach house in the U.S.
Gulfport, Mississippi

Starting in the Deep South, Gulfport, Mississippi, offers affordable housing along the Gulf Coast. With the median house price hovering around $120,000, potential homebuyers are attracted to Gulfport's 26 miles of white sandy beaches, excellent seafood, and Southern charm.
Palm Bay, Florida

Next, we travel to Palm Bay, Florida, on the Sunshine State's east coast. Known for its vibrant recreational fishing and eco-tourism activities, the median house price in Palm Bay is around $200,000, making it a feasible choice for many looking for a beachside getaway.
Daytona Beach, Florida

Also in Florida, Daytona Beach is world-renowned for its motor sports, particularly NASCAR. But beyond the roar of engines, Daytona Beach provides affordable beach living, with a median home price of approximately $150,000.
Port Arthur, Texas

In the heart of the oil refining industry, Port Arthur, Texas, may not be your traditional beach town, but it offers some of the cheapest real estate in the country. With a median home price of about $60,000, you can enjoy the Gulf Coast without breaking the bank.
Myrtle Beach, South Carolina

Heading to the Atlantic Coast, Myrtle Beach in South Carolina is a favorite vacation spot known for its golf courses and sandy beaches. With median home prices just over $160,000, this city offers affordability in a vibrant, tourist-friendly atmosphere.
Atlantic City, New Jersey

Atlantic City, famous for its boardwalk, casinos, and beaches, also has remarkably affordable housing. Although it's undergone some challenging times, it is making a resurgence and has a median house price around $120,000.
Biloxi, Mississippi

Back on the Gulf Coast, Biloxi, Mississippi, is known for its casinos and beautiful beaches. This city was hit hard by Hurricane Katrina but has bounced back with resilience. Biloxi's median house price sits at roughly $150,000.
Pensacola, Florida

Pensacola, Florida, offers beautiful white sandy beaches and a rich history. Known as the "City of Five Flags," Pensacola has a diverse culture and the median home price is around $145,000.
Corpus Christi, Texas

Another gem on the Gulf Coast is Corpus Christi, Texas. This city offers affordable beach living with a median home price of about $160,000. Corpus Christi is also known for its bird watching, fishing, and water sports.
Mobile, Alabama

Mobile, Alabama, is a historic city with beautiful architecture and a median house price of approximately $120,000. Known for its Mardi Gras celebrations and Southern hospitality, Mobile offers 60 miles of shoreline for beach house buyers.
Melbourne, Florida

On Florida's Space Coast, Melbourne offers a wide variety of recreational activities, from surfing to space-related attractions, with median home prices around $200,000.
Wilmington, North Carolina

In the charming Southern city of Wilmington, North Carolina, you can find beautiful beaches, a lively riverfront downtown, and a median home price of about $210,000. Wilmington is famous for its historic homes and lovely gardens.
Virginia Beach, Virginia

Finally, Virginia Beach, Virginia, while being slightly pricier than others on the list with a median home price around $260,000, it offers a variety of affordable options. This city is known for its miles of sandy beaches, lively boardwalk, and the stunning Chesapeake Bay area. It's also a hub for military families, given its proximity to several military bases, adding to its vibrant community feel.
When it comes to buying a beach house, these 13 locations offer affordability without sacrificing the appealing characteristics that draw many to coastal living. From Florida to Texas, Mississippi to New Jersey, and South Carolina to Virginia, there's a diverse range of options for every beach lover's budget.
The Southern charm of Gulfport, the eco-tourism hub of Palm Bay, the motor sport haven of Daytona Beach, and the resilience of Port Arthur are just some examples of the uniqueness of each location. In Myrtle Beach, you can enjoy golfing while in Atlantic City, you can try your luck at the casinos. Biloxi, too, offers the thrill of gambling while Pensacola's history is sure to enthrall. Corpus Christi is a haven for bird watchers, while Mobile offers the spectacle of Mardi Gras. In Melbourne, you can explore space, while in Wilmington, you'll be charmed by history and gardens. Finally, Virginia Beach offers the beauty of the Chesapeake Bay area.
Each of these beach towns and cities carries its own unique attractions and activities, alongside their affordable beach homes. Whether you're a water sports enthusiast, a lover of wildlife, a history buff, or a peace-seeker, there's an affordable beach house waiting for you.
It's also worth noting that while these locations offer affordability, prospective buyers should always consider additional costs such as insurance, maintenance, and potential challenges related to weather and climate change. Even with these considerations, owning a beach house in these areas remains an attainable dream.
In summary, affordable beach houses in the U.S. aren't limited to just one region or state. From the Atlantic to the Gulf Coast, there are a host of cities and towns offering budget-friendly beach houses. So, if you're considering buying a beach house without spending a fortune, these 13 locations are an excellent starting point. They prove that with a bit of research and exploration, you can find your own piece of beachside paradise without breaking the bank.