Boulder, Colorado Travel Guide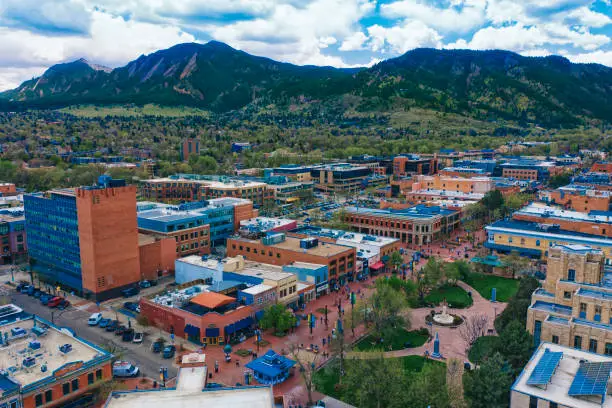 Nestled at the foothills of the Rocky Mountains, Boulder, Colorado, is a haven for outdoor enthusiasts, foodies, and culture seekers alike. With its picturesque landscapes, vibrant arts scene, and a plethora of recreational activities, Boulder offers a unique blend of natural beauty and urban sophistication. This travel guide will walk you through the must-visit spots and hidden gems of this charming city.
The Great Outdoors:
Flatirons: These iconic rock formations are the backdrop of Boulder and offer numerous hiking trails for all levels. Whether you're looking for a challenging climb or a leisurely walk, the Flatirons provide breathtaking views of the city and beyond.
Chautauqua Park: A historic landmark, Chautauqua Park is the gateway to the Flatirons. It's a perfect spot for picnicking, hiking, and enjoying concerts during the summer months.
Boulder Creek Path: Stretching for over 5 miles, this scenic path is ideal for biking, jogging, or a peaceful walk. The creek is also a popular spot for tubing during the warmer months.
Culinary Delights:
Pearl Street Mall: This pedestrian mall is the heart of Boulder's downtown and is lined with a variety of restaurants, cafes, and boutiques. From farm-to-table eateries to international cuisines, there's something for every palate.
Boulder Farmers Market: Held on Saturdays and Wednesdays, this market is a treat for the senses. Local farmers and artisans showcase their produce, baked goods, and crafts, making it a perfect spot to sample Boulder's local flavors.
Local Breweries: Boulder is known for its craft beer scene. Breweries like Avery Brewing Co., Boulder Beer Co., and Upslope Brewing Company offer tours and tastings for beer aficionados.
Cultural Attractions:
Boulder Museum of Contemporary Art (BMoCA): Located in a historic building, BMoCA showcases cutting-edge contemporary art exhibitions and offers educational programs for visitors of all ages.
Fiske Planetarium: Located on the University of Colorado Boulder campus, this planetarium offers immersive shows about the universe, making it a must-visit for astronomy lovers.
Dairy Arts Center: This multi-disciplinary arts hub offers theater performances, cinema, visual arts exhibitions, and more, making it a cultural epicenter in Boulder.
Festivals and Events:
Boulder International Film Festival (BIFF): Held annually, BIFF showcases films from around the world and attracts filmmakers and cinephiles alike.
Colorado Shakespeare Festival: Held during the summer months, this festival brings Shakespeare's plays to life in the picturesque Mary Rippon Outdoor Theatre.
Boulder Creek Festival: Celebrating the start of summer, this festival features live music, food stalls, and carnival rides, making it a favorite among locals and visitors.
Relax and Rejuvenate:
Boulder Dushanbe Teahouse: A gift from Boulder's sister city, Dushanbe in Tajikistan, this ornate teahouse offers a serene setting to enjoy a cup of tea and light bites.
Spas: After a day of hiking or exploring the city, unwind at one of Boulder's luxurious spas. St Julien Hotel & Spa and the Boulder Spa offer a range of treatments to rejuvenate your mind and body.
Shopping:
Twenty Ninth Street: This open-air shopping district offers a mix of national brands and local boutiques, making it a shopper's paradise.
The Hill: Located near the University of Colorado, The Hill is a vibrant neighborhood known for its eclectic shops, bookstores, and cafes.
Travel Tips:
Getting Around: Boulder is a bike-friendly city, and many places offer bike rentals. The local bus service, RTD, is also a convenient way to explore the city.
Weather: Boulder enjoys a mild climate with over 300 sunny days a year. However, it's always a good idea to check the weather forecast and pack accordingly.
Accommodation: From luxury hotels to cozy bed and breakfasts, Boulder offers a range of accommodation options to suit every budget.
Boulder, Colorado, is a city that seamlessly blends outdoor adventures with urban pleasures. Whether you're hiking the majestic Flatirons, savoring gourmet dishes, or soaking in the vibrant arts scene, Boulder promises an unforgettable travel experience. So pack your bags and get ready to explore this Rocky Mountain gem!
Educational Stops:
University of Colorado Boulder (CU Boulder): As the flagship university of the state, CU Boulder boasts a sprawling campus with historic buildings, cutting-edge research facilities, and the picturesque Norlin Quad. Take a guided tour or simply stroll around to soak in the academic atmosphere.
NCAR (National Center for Atmospheric Research): This is not just for science buffs. The center offers interactive exhibits on weather and climate, and its location provides panoramic views of Boulder.
Boulder History Museum: Delve into Boulder's past and learn about its rich history, from its Native American roots to its mining days and beyond.
Adventure Activities:
Rock Climbing: With its rocky terrain, Boulder is a hub for rock climbing enthusiasts. Beginners can take lessons, while experienced climbers can tackle some of the challenging routes in the area.
Hot Air Ballooning: Experience Boulder from a bird's-eye view. Several companies offer hot air balloon rides, providing a unique perspective of the city and its surrounding landscapes.
Skiing and Snowboarding: While Boulder itself doesn't have ski slopes, it's a short drive to some of Colorado's best ski resorts. Eldora Mountain Resort is the closest, just about 21 miles away.
Nightlife and Entertainment:
Fox Theatre and Boulder Theater: These historic venues host a range of performances, from live music and comedy shows to film screenings and lectures.
Pearl Street Nightlife: As the sun sets, Pearl Street comes alive with its array of bars, pubs, and live-music venues. Whether you're looking for craft cocktails, local brews, or just a lively atmosphere, there's something for everyone.
Laughing Goat Coffeehouse: More than just a coffee shop, it's a hub for local artists, musicians, and poets. Enjoy a cup of joe while listening to live performances.
Family-Friendly Attractions:
Butterfly Pavilion: Just a short drive from Boulder, this attraction is home to thousands of butterflies from around the world. It's a magical experience for kids and adults alike.
Gateway Fun Park: Perfect for families, this park offers mini-golf, go-karts, and a range of arcade games.
Boulder Reservoir: A favorite among locals, this reservoir offers sandy beaches, paddleboarding, and other water activities.
Boulder's allure lies in its diverse offerings. Whether you're an adventurer at heart, a culture enthusiast, or someone looking to relax and take in the beauty, Boulder welcomes you with open arms. Its friendly locals, sustainable practices, and the spirit of exploration make it a destination worth visiting time and again. So, when are you planning your trip to this Colorado paradise?