Hawaii Travel Guide on a Budget
Hawaii, an idyllic archipelago in the Pacific Ocean, is renowned for its stunning beaches, lush rainforests, and vibrant Polynesian culture. While it is often considered an expensive destination, budget-conscious travelers can still enjoy the beauty and charm of Hawaii with careful planning and savvy choices. In this comprehensive 2,000-word guide, we'll share the best budget-friendly attractions, accommodations, dining options, and tips for making the most of your visit to Hawaii.
Best Time to Visit Hawaii

The ideal time to visit Hawaii on a budget is during the shoulder seasons, from April to June and September to November. During these months, the weather is pleasant, and there are fewer tourists, making it easier to find affordable accommodations and enjoy local attractions without the crowds. High season in Hawaii, from December to March and July to August, often means higher prices and crowded attractions.
Budget Accommodations in Hawaii

Finding affordable accommodations is crucial for budget travelers. Hawaii has a variety of budget-friendly lodging options, including hostels, budget hotels, and vacation rentals.
a) Hostels: Staying in a hostel is one of the most affordable ways to explore Hawaii. Some popular hostels in the state include the Polynesian Hostel Beach Club in Waikiki, Banana Bungalow Maui, and Hilo Bay Hostel on the Big Island. Prices typically range from $30 to $60 per night for a dorm bed, depending on the location and season.
b) Budget Hotels: Budget hotels can offer more privacy and comfort than hostels. Some affordable options in Hawaii include the Ewa Hotel Waikiki, the Kona Seaside Hotel, and the Maui Beach Hotel. Prices range from $80 to $150 per night, depending on the season and location.
c) Vacation Rentals: Renting a private room or an entire apartment through platforms like Airbnb or VRBO can be an affordable and convenient option for budget travelers. You can find listings throughout the islands, with prices ranging from $50 to $200 per night.
Getting Around Hawaii on a Budget

Each Hawaiian island has its own public transportation system, but services may be limited in some areas. To explore the islands on a budget, consider using a combination of public transportation, car rentals, and organized tours.
a) Public Transportation: Oahu has the most extensive public transportation system in Hawaii, with the local bus service called TheBus. Single-ride fares are $2.50, and a 1-day pass is $5.50. On Maui, the Maui Bus has a limited network with fares starting at $2.00. The Big Island and Kauai have their own bus systems, but services are limited and may not be convenient for tourists.
b) Car Rentals: Renting a car can be an affordable way to explore the islands, especially if you're traveling with a group. Look for deals and discounts from local car rental companies and book in advance to secure the best rates. Prices typically start at $30 per day, depending on the season and vehicle type.
c) Organized Tours: Booking organized tours can be a cost-effective way to visit popular attractions and participate in activities like snorkeling, hiking, and surfing. Look for group discounts and package deals to get the best value for your money.
Free and Budget-Friendly Attractions in Hawaii

Hawaii is home to numerous free and affordable attractions that cater to a wide range of interests. Some must-visit spots include:
a) Beaches: Enjoy Hawaii's beautiful beaches without spending a dime. Waikiki Beach on Oahu, Poipu Beach on Kauai, and Ka'anapali Beach on Maui are just a few of the most popular public beaches in the state. Swim, sunbathe, or watch the sunset for a memorable and budget-friendly experience.
b) Hiking: Hawaii offers a plethora of hiking trails that showcase the islands' diverse landscapes, from volcanic craters to lush rainforests. Some popular hikes include the Diamond Head Crater Trail on Oahu, the Pipiwai Trail in Maui's Haleakala National Park, and the Waimea Canyon Trail on Kauai. Many hikes are free, but some may require a small entrance fee or parking fee.
c) Historical Sites: Immerse yourself in Hawaii's rich history and culture by visiting sites such as the Iolani Palace, the only royal palace in the United States (admission: $27 for adults, $6 for children), or Pu'uhonua O Honaunau National Historical Park, a sacred sanctuary in ancient Hawaii (admission: $20 per vehicle).
d) Farmers' Markets: Explore local farmers' markets for fresh produce, handmade crafts, and delicious food. Some popular markets include the KCC Farmers' Market in Honolulu, the Hilo Farmers' Market on the Big Island, and the Kauai Community Market.
e) Festivals and Events: Hawaii hosts numerous free festivals and events throughout the year, celebrating the islands' culture, music, and traditions. Some notable events include the Aloha Festivals, the Merrie Monarch Festival, and the Maui Film Festival.
Budget-Friendly Dining in Hawaii

Hawaii's culinary scene offers diverse and delicious options for budget-conscious travelers. Here are some top picks for affordable dining:
a) Plate Lunches: A local staple, plate lunches typically consist of a protein (such as kalua pork, teriyaki chicken, or mahi-mahi), rice, and macaroni salad. You can find these hearty meals at local eateries and food trucks, with prices ranging from $6 to $12.
b) Poke Bowls: This traditional Hawaiian dish features raw fish, usually marinated in soy sauce and sesame oil, served over rice with various toppings. Poke bowls are widely available at grocery stores, food trucks, and casual restaurants, with prices ranging from $8 to $15.
c) Food Trucks: Hawaii is home to numerous food trucks offering diverse, affordable, and delicious fare. Popular options include Giovanni's Shrimp Truck on Oahu, Geste Shrimp Truck on Maui, and Scandinavian Shave Ice on the Big Island.
d) Happy Hours: Many bars and restaurants in Hawaii offer happy hour specials with discounted drinks and appetizers. Check out spots like Tiki's Grill & Bar in Waikiki, Monkeypod Kitchen on Maui, or Duke's Kauai for great deals.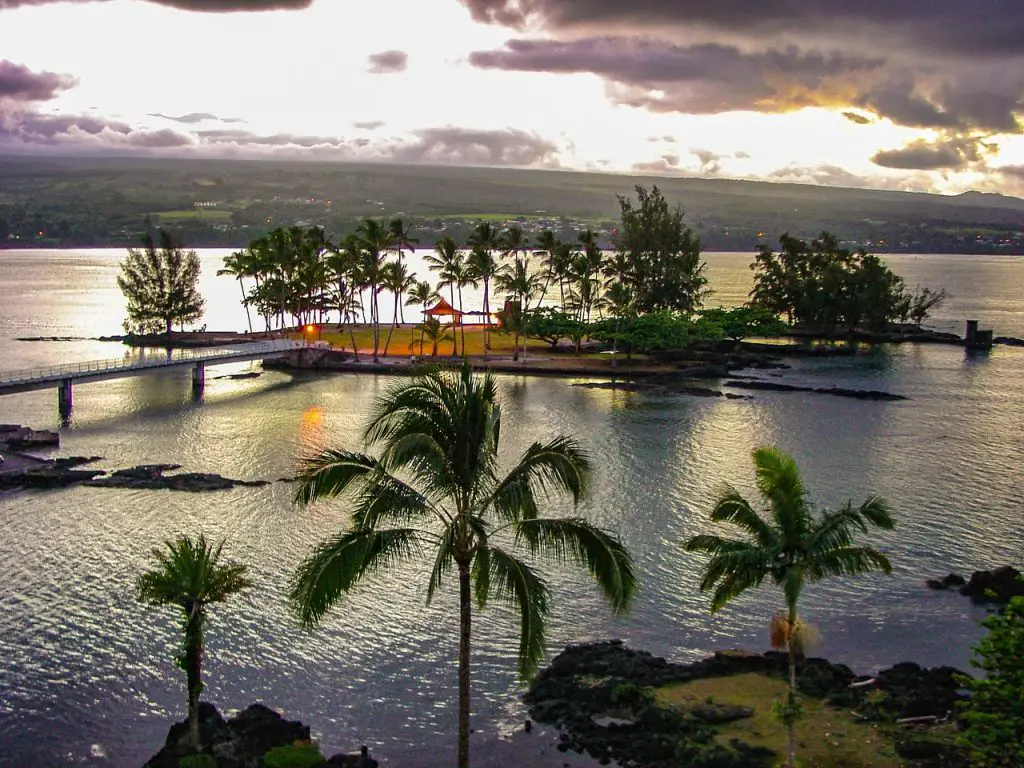 Save on Activities in Hawaii

Hawaii offers a variety of budget-friendly activities that let you explore the islands without breaking the bank:
a) Snorkeling: Rent snorkeling gear from a local shop or tour operator (prices start at $5 per day) and explore Hawaii's vibrant marine life at popular snorkeling spots like Hanauma Bay on Oahu, Molokini Crater off the coast of Maui, and Kealakekua Bay on the Big Island.
b) Surfing: Take advantage of Hawaii's world-class surf by renting a surfboard (prices start at $20 per day) or taking a group surf lesson (prices start at $60 per person). Popular surf spots include Waikiki Beach on Oahu, Lahaina on Maui, and Hanalei Bay on Kauai.
c) Luaus: Experience traditional Hawaiian culture at a luau, a Polynesian feast with live music, dance, and entertainment. Look for budget-friendly luaus such as the Paradise Cove Luau on Oahu or the Old Lahaina Luau on Maui. Prices typically range from $60 to $120 per person, with discounts available for children and group bookings.
Budget-Friendly Day Trips in Hawaii

Consider taking budget-friendly day trips to explore the diverse attractions of Hawaii's islands:
a) Road to Hana: Experience the breathtaking beauty of Maui's east coast on this scenic drive, featuring cascading waterfalls, lush rainforests, and dramatic coastline. The Road to Hana is free to drive, but you may need to rent a car or join a guided tour. Plan for a full day to make the most of the journey.
b) Hawaii Volcanoes National Park: Visit this awe-inspiring park on the Big Island, home to two active volcanoes, Kilauea and Mauna Loa. The park entrance fee is $30 per vehicle, and you can explore various hiking trails, the Jaggar Museum, and the Thurston Lava Tube. Allocate a full day for your visit.
c) Pearl Harbor: Pay your respects at this historic site on Oahu, where the USS Arizona Memorial commemorates the attack on Pearl Harbor during World War II. Admission to the memorial is free, but you'll need to reserve a timed ticket in advance. The nearby USS Bowfin Submarine Museum and the Battleship Missouri Memorial charge entrance fees, but offer discounts for purchasing a combined pass.
Conclusion
Hawaii is a dream destination that offers stunning natural beauty, rich cultural experiences, and a variety of outdoor activities. By following this guide and taking advantage of budget accommodations, affordable dining options, and free attractions, you can enjoy a memorable Hawaiian vacation without breaking the bank. Embrace the Aloha spirit and make the most of your budget-conscious adventure in this island paradise.