How to Travel to Nice on a Budget
Known for its glamour and sophistication, Nice, a crown jewel of the French Riviera, might seem like a destination reserved for the affluent.
However, with some careful planning and smart choices, it's possible to enjoy all that Nice offers on a budget. This guide will share insider tips on how to save money without compromising on the authentic Nice experience.
Affordable Flights and Travel Insurance
The journey to Nice starts with booking your flight. Flexibility is key when looking for the best deals. Use flight comparison websites and apps to monitor fares and set up alerts for price drops. Consider traveling during the shoulder seasons – spring and autumn – when flights are cheaper, and the weather is still delightful.
Consider purchasing travel insurance. It may seem like an unnecessary expense, but it can save you a lot in case of an unexpected event such as a medical emergency or trip cancellation.
Budget Accommodation
Nice offers a variety of budget accommodations. Look beyond the luxury hotels along the Promenade des Anglais and consider options like budget hotels, guesthouses, hostels, and vacation rentals. Booking platforms such as Airbnb, Booking.com, or Hostelworld provide plenty of choices. For a more authentic experience, try Couchsurfing, where you stay with locals for free and gain invaluable local insights.
Economical Eateries
Eating in Nice doesn't have to break the bank. To save on meals, opt for the daily set menus ("menu du jour") in local bistros. Consider eating your main meal at lunch when many restaurants offer discounted lunch specials. Visit bakeries late in the day when they often reduce prices on unsold bread and pastries. Also, try street food like "socca" or "pan bagnat," both Nice specialties, which are both affordable and delicious.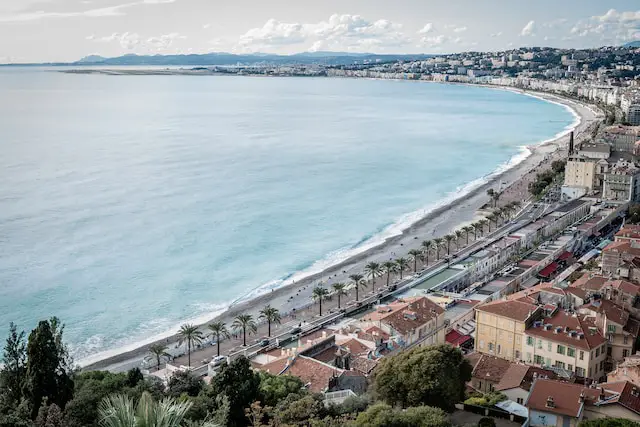 Grocery Shopping and Self-Catering
Another option for affordable dining is self-catering. Nice boasts several local markets and supermarkets where you can buy fresh produce, cheese, and other local delicacies. The Cours Saleya market in the Old Town is particularly delightful. Cooking a few meals can save you a considerable amount, especially if you're staying in Nice for more than a few days.
Free and Affordable Attractions
Nice is full of free and low-cost attractions. The Promenade des Anglais, Old Town (Vieille Ville), Castle Hill, and the Port of Nice can all be explored for free. Museums in Nice are also affordable; some, like the Museum of Modern and Contemporary Art (MAMAC) and the Museum of Photography, are free on the first Sunday of every month.
Investing in the French Riviera Pass can also be cost-effective, especially if you plan on visiting multiple attractions. It offers free entry to various museums and galleries and includes free public transportation.
Cheap Transport
Nice's city center is compact and easily walkable, saving you transportation costs. For longer journeys, use the city's efficient public transportation system. A one-day transport pass can take you unlimited distances on all city buses and trams.
Consider renting a bike from Vélo Bleu, Nice's bike-sharing program. It's an affordable and fun way to explore the city and its surroundings.
Free Events and Festivals
Plan your trip around Nice's free events and festivals, like the Carnaval de Nice, which although ticketed, can be enjoyed from many vantage points for free. Summer brings free music concerts and outdoor cinema screenings to Nice's parks and beaches.
Smart Souvenir Shopping
Instead of expensive trinkets from touristy shops, look for unique yet affordable souvenirs in Nice's local markets. Provençal fabrics, artisanal soaps, and local food products like olive oil, tapenade, or herbes de Provence make excellent keepsakes or gifts. Also, consider postcards or prints from local artists as another budget-friendly option.
Affordable Day Trips
Use Nice as your base to explore the nearby towns along the Côte d'Azur. Public buses and trains are an economical way to visit glamorous destinations like Cannes, Monaco, and Antibes, or the enchanting hilltop villages of Eze and Saint-Paul-de-Vence. The Lignes d'Azur buses cost only a few euros for a journey, regardless of distance.
Budgeting and Managing Money
Set a daily budget for your trip, accounting for accommodation, meals, attractions, transportation, and souvenirs. Use budgeting apps to track your expenses and stay within your limits.
Avoid costly foreign transaction fees by using a credit card that doesn't charge these fees or by withdrawing larger amounts of cash less frequently. Be aware of current exchange rates to make sure you're getting a fair deal when changing money.
Free Walking Tours
Consider joining a free walking tour. It's a great way to orient yourself in the city and learn about its history from knowledgeable local guides. Remember to tip what you feel the tour was worth at the end.
Save on Connectivity
To stay connected, consider buying a local SIM card instead of paying for expensive international roaming. Public spaces like libraries, cafes, and certain outdoor areas offer free Wi-Fi, which can also help save on data costs.
In conclusion, a trip to Nice doesn't have to be expensive. With a bit of planning and these budget-friendly tips, you can enjoy an unforgettable vacation in Nice, soaking in the city's elegance, vibrancy, and the laid-back Mediterranean lifestyle. With its rich cultural heritage, stunning landscapes, and welcoming locals, Nice truly is a destination that offers much more than what money can buy.