Parque Los Fundadores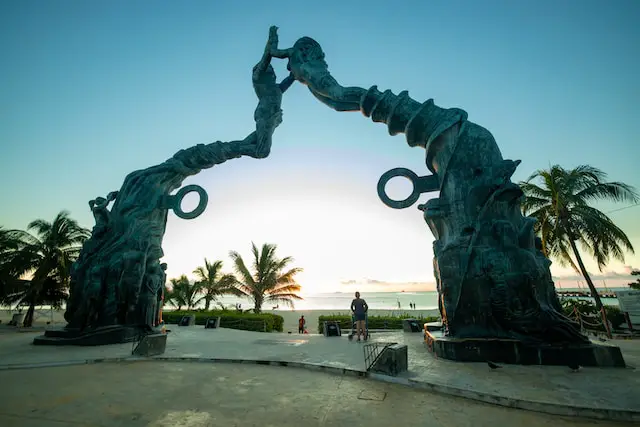 Parque Los Fundadores, or Founding Fathers Park, is an iconic landmark and cultural hub of Playa del Carmen. This bustling park is a blend of historical significance, vibrant local life, and artistic expressions. With its ideal location just steps away from the Caribbean Sea and the bustling 5th Avenue, Parque Los Fundadores is a must-visit site for anyone seeking a deeper understanding of Playa del Carmen's cultural and social fabric.
Location and History
Parque Los Fundadores is located at the southern end of La Quinta Avenida (5th Avenue), the main tourist artery of Playa del Carmen. The park is nestled between the Cozumel ferry pier and the ADO bus station, making it easily accessible for both locals and tourists. It's named in honor of the city's founding fathers, marking the area's rich history and heritage.
Main Attractions
Portal Maya Statue
The park's centerpiece is the Portal Maya, an impressive bronze sculpture towering 16 meters high, created by Mexican artist Arturo Taravez. This intricate statue, unveiled during the end of the Mayan calendar in 2012, represents the elements of wind and water in its spiraling design. The two figures at the statue's base, a man and a woman, are shown leaping through the 'portal,' symbolizing the continuity of life and the beginning of a new era. It's a popular photo spot and serves as a reminder of the Mayan heritage deeply ingrained in this region.
Chapel of Our Lady of Carmen
Adjacent to the Portal Maya is the Capilla Nuestra Señora del Carmen, a charming open-air chapel that adds a spiritual dimension to the park. This white-washed chapel, complete with a traditional thatched roof, offers Mass services and is a favored venue for beachfront weddings. The chapel's seaside location and simplistic design create a serene atmosphere where visitors can pause for quiet contemplation amidst their travels.
Traditional Mayan Dance Performances
Parque Los Fundadores is a living stage where visitors can witness the vibrant local culture firsthand. Every day, traditional Mayan dance troupes, known as the "Voladores de Papantla" or "Papantla Flyers," put on thrilling aerial performances. These dancers, dressed in colorful attire, perform a ritual that involves climbing a 30-meter pole and spinning down to the ground suspended by ropes, a spectacle that attracts a crowd of awestruck spectators. This ancient ritual, a UNESCO Intangible Cultural Heritage, is believed to appease the gods to end drought.
Market Stalls and Food Vendors
The park is surrounded by an array of stalls selling a wide variety of goods, from handcrafted souvenirs and local artworks to traditional Mexican clothing and jewelry. It's an excellent place to browse for unique keepsakes or gifts. Several food vendors offer delicious local street food, including fresh fruit, marquesitas (a Yucatan-style crepe), churros, and esquites (seasoned corn). Visitors can enjoy a casual snack while experiencing the lively ambiance of the park.
Nearby Attractions
Parque Los Fundadores serves as a gateway to other local attractions. From here, you can easily access the bustling 5th Avenue, Playa del Carmen's main shopping, dining, and nightlife hub. The sandy beaches of Playa del Carmen are just a stone's throw away, offering visitors the chance to enjoy the Caribbean's warm waters and picturesque sunsets.
Moreover, the park is right next to the ferry dock, where you can catch a ferry to Cozumel, an island known for its stunning coral reefs and excellent diving opportunities.
Parque Los Fundadores, with its central location, cultural significance, and lively atmosphere, is truly the heart of Playa del Carmen. It's not just a park, but a vibrant social space that offers a slice of local life and a cultural immersion for every visitor. From enjoying thrilling dance performances and local food to capturing the perfect photograph at the Portal Maya, there's always something happening in this lively park.
Visiting Parque Los Fundadores offers a deeper understanding of Playa del Carmen beyond its beautiful beaches and vibrant nightlife. It serves as a tangible connection to the city's past and a colorful window into its present. Whether you're planning to spend an hour or an entire afternoon, a visit to Parque Los Fundadores is sure to be a memorable part of your Playa del Carmen experience.
It's important to note that while the park offers numerous attractions, it is also a community space for the local population. Visitors are encouraged to be respectful and mindful of the park's significance to the local community. Enjoy the performances, browse through the market stalls, and soak in the atmosphere, but also remember to contribute positively to the local economy and respect local traditions.
As we conclude this comprehensive overview of Parque Los Fundadores, it's clear that this vibrant park adds a distinctive character to Playa del Carmen. This seaside park, where culture, history, and community converge, is undoubtedly a must-visit destination in Playa del Carmen, a place where every visitor can connect with the authentic spirit of this remarkable city. Whether you are a culture enthusiast, a history buff, a food lover, or just a casual traveler, Parque Los Fundadores offers a unique and enriching experience that truly encapsulates the essence of Playa del Carmen.