The 25 Best Coffee shops in London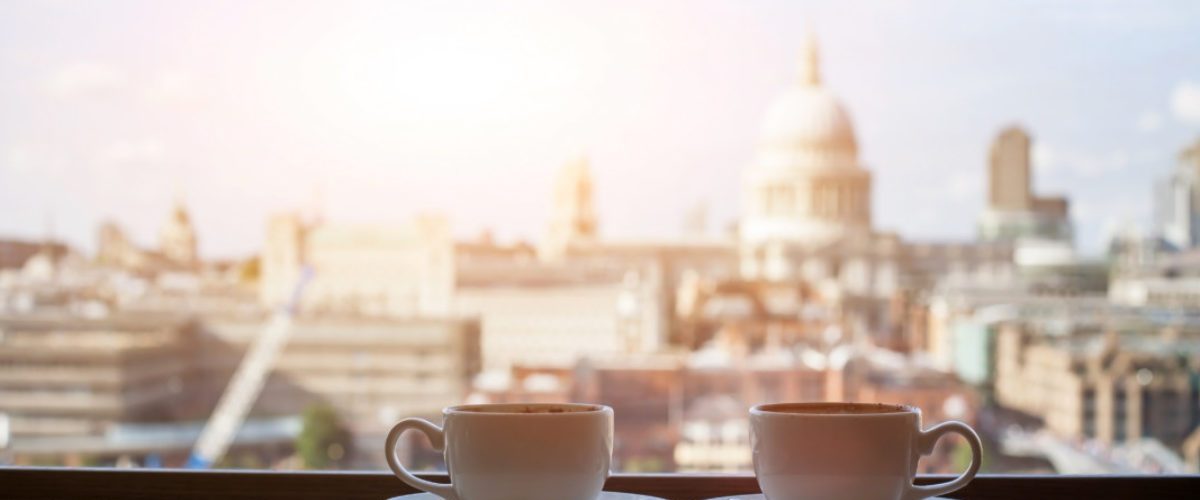 London, with its rich history, diverse culture, and vibrant atmosphere, is not only known for its iconic landmarks but also for its thriving coffee scene. The city has embraced the coffee culture with open arms, and there is no shortage of fantastic coffee shops to explore. Whether you're a local in search of your new favorite spot or a tourist looking for a caffeine fix, this guide to the 25 best coffee shops in London will lead you on a delightful journey through the city's coffee culture.
Monmouth Coffee Company – Covent Garden

Our coffee journey begins in Covent Garden with the renowned Monmouth Coffee Company. This cozy café sources high-quality beans from around the world and roasts them on-site. The result is a rich, aromatic cup of coffee that's perfect for starting your day.
Flat White – Soho

If you're craving a taste of Australia's coffee culture in the heart of London, Flat White in Soho is the place to go. They specialize in flat whites, a creamy and strong coffee drink that originated in Australia and New Zealand. Pair it with their delicious pastries for a delightful experience.
Workshop Coffee – Marylebone

Workshop Coffee in Marylebone is all about craftsmanship when it comes to brewing coffee. They're passionate about showcasing the intricate flavors of coffee beans and offer a rotating selection of single-origin coffees. Don't forget to try their innovative coffee creations.
Prufrock Coffee – Farringdon

Prufrock Coffee in Farringdon takes coffee seriously. They offer a wide range of coffee beans and brewing methods, ensuring that every cup is a masterpiece. The knowledgeable staff can guide you through the coffee selection process, making it an educational experience as well.
Kaffeine – Fitzrovia

Kaffeine, located in Fitzrovia, is a beloved spot for coffee aficionados. They focus on serving exceptional coffee, and their knowledgeable baristas can create the perfect brew tailored to your preferences. The friendly atmosphere makes it an ideal place to relax and enjoy your coffee.
Ozone Coffee Roasters – Shoreditch

Ozone Coffee Roasters in Shoreditch is a coffee lover's paradise. With their own roastery and café, they take pride in sourcing and roasting their beans to perfection. The industrial-chic décor adds to the overall ambiance, making it a great place to unwind.
Attendant – Fitzrovia

Attendant in Fitzrovia is a unique coffee shop that's housed in a restored Victorian public toilet. The quirky setting is complemented by their dedication to high-quality coffee. You'll be impressed by their creative coffee concoctions and hearty brunch options.
Association Coffee – Bankside

Association Coffee in Bankside is a hidden gem that offers a serene escape from the bustling city. Their coffee selection is carefully curated, and their talented baristas craft exceptional espresso-based drinks. It's the perfect spot to savor your coffee with a riverside view.
The Watch House – Bermondsey

The Watch House in Bermondsey is a charming café with a maritime-inspired theme. Their coffee is sourced from specialty roasters, ensuring each cup is packed with flavor. The nautical décor and relaxed ambiance make it a great place to spend your afternoon.
Timberyard – Seven Dials

Timberyard in Seven Dials is a coffee shop that combines the love of coffee with a passion for creativity. They provide a co-working space where you can sip on your coffee while working or simply enjoying the atmosphere. Their extensive menu caters to all coffee preferences.
Nude Espresso – Shoreditch

Nude Espresso, located in Shoreditch, is committed to sustainability and ethical sourcing. They roast their beans in-house and offer a variety of coffee blends and single origins. The modern interior and friendly staff create a welcoming environment for coffee enthusiasts.
TAP Coffee – Soho

TAP Coffee in Soho is a cozy café that focuses on quality and consistency. They take pride in their meticulous approach to brewing coffee and offer a diverse range of beans to choose from. The warm and inviting atmosphere makes it an ideal spot for a coffee date.
The Gentlemen Baristas – Borough

The Gentlemen Baristas in Borough pays homage to London's coffeehouse heritage. They offer a wide range of coffee options, including their signature "London Fog" tea latte. The vintage décor and friendly staff add to the charm of this café.
Dark Arts Coffee – Hackney

Dark Arts Coffee in Hackney is known for its creative and innovative approach to coffee. They roast their beans with a focus on experimentation, resulting in unique and flavorful brews. The café's edgy design and friendly baristas create a welcoming vibe.
Coleman Coffee Roasters – Waterloo

Coleman Coffee Roasters in Waterloo is a small but mighty café that roasts its beans on-site. They take pride in their attention to detail and offer a rotating selection of single-origin coffees. The minimalist design and quality coffee make it a must-visit.
Holborn Grind – Holborn

Holborn Grind is a trendy coffee shop located in the heart of Holborn. They serve expertly crafted coffee and a selection of cocktails for those looking to transition from coffee to something stronger later in the day. The chic design and vibrant atmosphere make it a popular choice.
Bulldog Edition – Soho

Bulldog Edition is a hidden gem tucked inside the Ace Hotel in Soho. This café serves delicious coffee using beans from Square Mile Coffee Roasters. The stylish setting and comfortable seating make it a great place to relax with a cup of coffee.
Notes Coffee – Trafalgar Square

Notes Coffee in Trafalgar Square is the perfect spot for coffee lovers exploring the city's iconic landmarks. They roast their beans in East London and focus on providing excellent coffee, alongside a selection of tasty pastries.
Caravan – King's Cross

Caravan in King's Cross is a coffee and all-day dining destination. They source beans from around the world and roast them on-site, ensuring a fresh and flavorful cup of coffee every time. The spacious interior and modern design make it a popular choice for locals and visitors alike.
TAP Coffee – Tottenham Court Road

TAP Coffee on Tottenham Court Road is a cozy and welcoming café with a commitment to sustainable coffee. They offer a variety of coffee beans, each with its own unique flavor profile. The friendly staff and relaxed atmosphere make it a great place to unwind.
Shoreditch Grind – Shoreditch

Shoreditch Grind in the heart of Shoreditch is a popular spot for coffee enthusiasts. They serve specialty coffee and offer a selection of cocktails for those looking for a different kind of buzz. The stylish interior and lively atmosphere make it a favorite among locals.
The Black Lab Coffee House – Clapham

The Black Lab Coffee House in Clapham is a dog-friendly café that combines a love for coffee and four-legged friends. They roast their beans in-house and offer a welcoming environment for both coffee lovers and dog owners.
The Fields Beneath – Kentish Town
The Fields Beneath in Kentish Town is a hidden gem for coffee lovers in North London. They prioritize sustainability and offer a variety of coffee beans from local roasters. The café's commitment to eco-friendly practices and delicious coffee makes it stand out.
Lundenwic – Aldwych

Lundenwic in Aldwych is a Scandinavian-inspired café known for its quality coffee and fresh, wholesome food options. They use beans from local roasters and take pride in their commitment to sustainability. The minimalist design and friendly staff create a serene atmosphere.
Workshop Coffee – Fitzrovia

We end our coffee journey in Fitzrovia, revisiting Workshop Coffee for its second location. This café continues to impress with its dedication to showcasing the flavors of different coffee beans. The stylish décor and knowledgeable baristas make it a top choice for coffee enthusiasts.
London's coffee scene has evolved into a thriving and diverse culture that caters to coffee lovers of all tastes and preferences. From cozy neighborhood cafes to trendy coffee shops in the heart of the city, the 25 best coffee shops in London offer a delightful blend of quality, ambiance, and innovation. Whether you're in the mood for a perfectly brewed flat white, a single-origin pour-over, or a unique coffee creation, these coffee shops are sure to satisfy your caffeine cravings while providing a memorable coffee experience in the bustling metropolis of London. So, embark on a coffee adventure through London's vibrant neighborhoods, and savor the city's finest brews one cup at a time.
While the 25 coffee shops highlighted in the previous section are some of the best in London, there are still plenty of other fantastic cafes to explore in this bustling city. Here are a few more recommendations for coffee enthusiasts looking to expand their horizons:
Origin Coffee – Charlotte Road

Origin Coffee is dedicated to sourcing ethically and sustainably grown beans. They offer a variety of coffee styles and brewing methods, allowing you to explore different flavor profiles.
The Espresso Room – Bloomsbury

This small but cozy café in Bloomsbury is known for its dedication to espresso perfection. The baristas take their craft seriously and create exceptional coffee using beans from local roasters.
Ole & Steen – Various Locations

Ole & Steen is a Danish bakery chain that serves high-quality coffee alongside delicious pastries and bread. Their inviting atmosphere and delectable treats make it a great spot for a coffee break.
Lantana Café – Fitzrovia

Lantana Café in Fitzrovia is an Australian-inspired café known for its specialty coffee and brunch menu. The laid-back vibe and friendly staff make it a popular choice among locals.
Saint Espresso – Angel

Saint Espresso in Angel takes pride in its commitment to specialty coffee. They offer a rotating selection of beans and expertly crafted espresso-based drinks. The minimalistic design and attentive service create a relaxed atmosphere.
Kahaila Café – Brick Lane

Kahaila Café, located on Brick Lane, is not only a great place for coffee but also a social enterprise. They use their proceeds to support community projects, making it a cafe with a purpose.
Workshop Coffee – White Collar Factory – Old Street

If you find yourself in the Old Street area, Workshop Coffee's White Collar Factory location is worth a visit. They offer their signature coffee along with an array of tasty bites in a modern setting.
Café TPT – Chinatown

Café TPT in Chinatown is known for its authentic Hong Kong-style milk tea, but they also serve a good cup of coffee. It's a unique blend of East meets West in the heart of London.
Shakespeare and Sons – Holborn

Shakespeare and Sons is a bookshop and café hybrid in Holborn. While browsing through books, you can enjoy a cup of coffee and a slice of cake in this cozy and intellectual setting.
Climpson & Sons – Broadway Market

Climpson & Sons in Broadway Market is a coffee roastery and café with a commitment to sustainability. They roast their beans on-site and offer a variety of single-origin coffees.
London's coffee culture is thriving, and there's no shortage of incredible coffee shops to discover throughout the city. From the artisanal roasters to the cozy neighborhood cafes, each establishment has its unique charm and dedication to the craft of coffee.
Whether you're a coffee connoisseur seeking the perfect pour-over or a casual coffee drinker looking for a cozy spot to relax, London's coffee scene has something to offer everyone. As you explore the diverse neighborhoods and vibrant streets of this dynamic city, be sure to savor the coffee, soak in the atmosphere, and appreciate the passion and dedication that go into each cup.
So, whether you're a London local or a visitor from afar, embark on a caffeinated adventure through the city's coffee shops, and let the rich aromas and flavors of London's finest brews awaken your senses and invigorate your spirit. Cheers to the vibrant coffee culture of London!