Ulaanbaatar Itinerary Travel Guide
Ulaanbaatar, the capital and largest city of Mongolia, is a vibrant and bustling metropolis that serves as a gateway to the country's vast and diverse landscapes. With a unique blend of ancient traditions and modern influences, Ulaanbaatar offers an exciting array of attractions, activities, and experiences for travelers to discover. This comprehensive travel guide presents a suggested itinerary to make the most of your visit to Ulaanbaatar, whether you're staying for a few days or using it as a base for further explorations.
Day 1: Arrival and Orientation
Arrival in Ulaanbaatar

Upon arrival at Chinggis Khaan International Airport or the Ulaanbaatar Railway Station, make your way to your chosen accommodation in the city center. Many hotels and hostels offer airport pick-up services, or you can take a taxi or public transportation to reach your destination.
Settling in and Exploring the City Center

After checking in, take some time to settle into your accommodation and relax after your journey. Depending on your arrival time, you may want to start exploring the city center on foot. Head to Sukhbaatar Square, the central square of Ulaanbaatar, which is surrounded by significant landmarks such as the Government Palace, the State Opera and Ballet Theatre, and the Mongolian Stock Exchange.
Dinner and Evening Entertainment

In the evening, enjoy a delicious meal at one of Ulaanbaatar's many restaurants, where you can sample traditional Mongolian dishes like buuz (steamed dumplings), khuushuur (fried dumplings), and tsuivan (noodle stew). After dinner, consider attending a traditional Mongolian performance, such as a throat singing or contortionist show, to get a taste of the country's rich cultural heritage.
Day 2: History and Culture
Gandantegchinlen Monastery

Begin your day with a visit to the Gandantegchinlen Monastery, one of the most important Buddhist sites in Mongolia. Explore the impressive temple complex, which houses a giant statue of the Buddha of Compassion, and observe the daily rituals and ceremonies performed by the resident monks.
National Museum of Mongolia

Next, head to the National Museum of Mongolia, which showcases the country's history, culture, and traditions through a vast collection of artifacts and exhibits. Highlights of the museum include displays on the Mongol Empire, traditional nomadic life, and Mongolian folk costumes.
Choijin Lama Temple

After lunch, visit the Choijin Lama Temple, a beautiful and well-preserved example of Buddhist architecture in Mongolia. The temple complex features several ornately decorated buildings, including the main temple, which houses a collection of Buddhist statues, thangka paintings, and religious artifacts.
Zaisan Memorial

In the late afternoon, make your way to the Zaisan Memorial, a hilltop monument dedicated to the Soviet soldiers who fought alongside Mongolian troops during World War II. The memorial offers panoramic views of Ulaanbaatar and its surrounding landscapes, making it a perfect spot for sunset photography.
Evening at Leisure

Spend your evening at leisure, exploring Ulaanbaatar's vibrant nightlife scene, which offers a wide array of bars, clubs, and live music venues. Alternatively, enjoy a quiet dinner at a local restaurant or attend another traditional performance.
Day 3: Nature and Recreation
Gorkhi-Terelj National Park

On your third day in Ulaanbaatar, venture out of the city to Gorkhi-Terelj National Park, located approximately 50 kilometers away. The park offers stunning landscapes
of rolling grasslands, rugged cliffs, and verdant forests, providing an ideal setting for a day of outdoor adventure. Join a guided tour or rent a car to explore the park at your own pace.
Turtle Rock and Aryapala Meditation Center

Begin your visit to Gorkhi-Terelj National Park with a stop at Turtle Rock, a massive rock formation resembling a turtle. From there, make your way to the Aryapala Meditation Center, a serene Buddhist retreat nestled in the mountains. The center offers meditation sessions, workshops, and beautiful views of the surrounding landscape.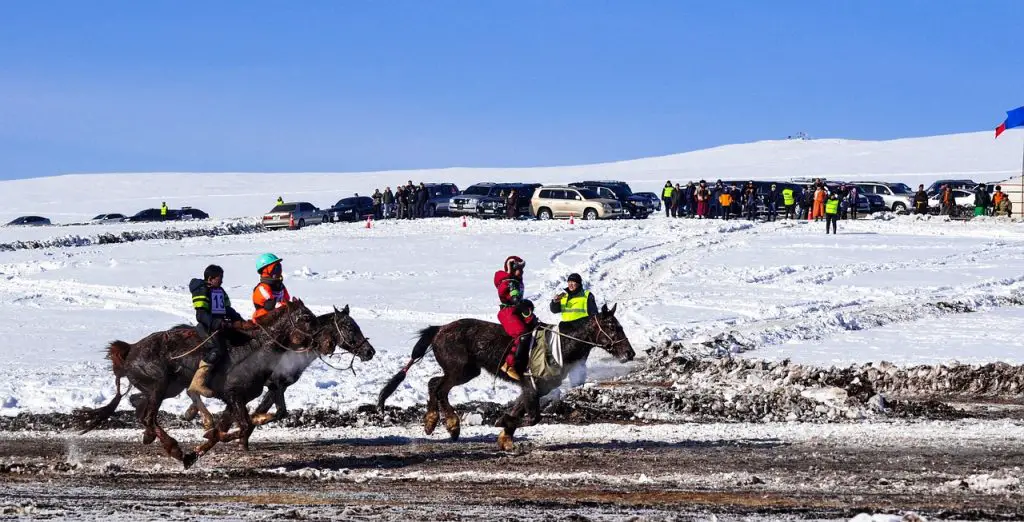 Hiking and Horse Riding

Spend the afternoon exploring the park's numerous hiking trails, which range from easy strolls to challenging treks through the mountainous terrain. Alternatively, consider joining a guided horseback riding tour, a quintessentially Mongolian experience that allows you to traverse the park's diverse landscapes on horseback.
Ger Camp Experience

For an authentic Mongolian experience, consider spending the night in a traditional ger camp within Gorkhi-Terelj National Park. These circular tents made of felt and wood are used by Mongolia's nomadic herders and offer a unique and comfortable accommodation option. Ger camps often provide meals and activities, such as archery, traditional games, and cultural performances, allowing you to fully immerse yourself in Mongolian culture.
Day 4: Local Markets and Souvenir Shopping
Naran Tuul Market

Return to Ulaanbaatar and spend your fourth day exploring the city's bustling markets. Begin at Naran Tuul Market, also known as the Black Market, where you can find everything from traditional clothing and handicrafts to modern electronics and household goods. This sprawling market offers a fascinating glimpse into the daily life of Ulaanbaatar's residents and is an excellent place to purchase souvenirs and gifts at affordable prices.
State Department Store

After visiting Naran Tuul Market, head to the State Department Store, a centrally located shopping center that offers a wide variety of products, including traditional Mongolian clothing, handicrafts, and cashmere items. This store is particularly popular among tourists for its selection of high-quality souvenirs and its convenient location near Sukhbaatar Square.
Evening Entertainment

On your final evening in Ulaanbaatar, consider attending a performance at the State Opera and Ballet Theatre or the State Academic Drama Theatre, both of which offer a diverse range of productions, including classical ballets, operas, and contemporary plays. Alternatively, enjoy a leisurely dinner at one of the city's many fine dining establishments or local eateries.
Day 5: Departure
Farewell to Ulaanbaatar

On your last day in Ulaanbaatar, take some time to relax and reflect on your experiences in the city. Depending on your departure time, you may have the opportunity to visit any remaining attractions on your wishlist or simply enjoy a leisurely stroll through the city center. When it's time to leave, make your way to Chinggis Khaan International Airport or the Ulaanbaatar Railway Station for your onward journey.
Conclusion
This Ulaanbaatar itinerary offers a diverse and engaging introduction to the city's many attractions, activities, and experiences. From exploring ancient Buddhist temples and monasteries to immersing yourself in Mongolia's breathtaking natural landscapes, there is no shortage of memorable moments to be found in Ulaanbaatar. Whether you're visiting the city as a standalone destination or as a starting point for further travels in Mongolia, this travel guide provides the perfect foundation for an unforgettable journey.