New York City Travel Guide for Digital Nomads
Ah, New York City! A bustling metropolis, a melting pot of cultures, and the city that never sleeps. But for the modern digital nomad – a professional who works remotely using digital technology – NYC offers more than just iconic attractions. It's a haven of connectivity, creativity, and co-working spaces. Dive in, as we navigate the concrete jungle from a digital nomad's perspective.
The Digital Nomad Lifestyle in NYC
Being a digital nomad in NYC means balancing work and play in a city that offers endless opportunities for both. With skyscrapers housing startups to established giants, and coffee shops buzzing with entrepreneurial energy, NYC is both inspiring and conducive for remote work.
Connectivity: One thing you won't have to worry about is connectivity. Most of NYC offers high-speed internet, whether you're in a public space, café, or Airbnb.
Time Zone: For those collaborating with international clients, NYC's Eastern Standard Time is beneficial. You'll overlap with European business hours in the morning and Asian hours in the late evening.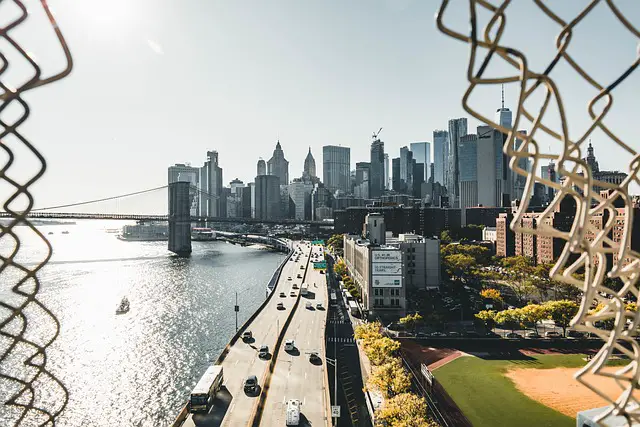 Top Co-working Spaces
WeWork: With multiple locations throughout the city, from the Financial District to Central Park, WeWork offers spaces designed for productivity and networking.
The Farm SoHo: Boasting organic architecture and a vibrant community, it's a favorite among digital nomads.
NeueHouse: Situated in a historic building, this space offers an amalgamation of old-world charm and modern facilities.
Brooklyn Desks: As Brooklyn becomes a hub for startups, this coworking space caters to the borough's increasing demand.
Cafés Perfect for Remote Work
Stumptown Coffee Roasters: Located in Greenwich Village, this café offers robust coffee and ample seating.
Devoción: This Brooklyn-based café provides not just high-speed Wi-Fi, but also a serene ambiance, thanks to its indoor garden.
Think Coffee: With various outlets, this chain promotes sustainability and provides a cozy ambiance, perfect for work.
Digital Nomad Friendly Accommodations
Selina Chelsea: Part of a global chain catering to digital nomads, it offers a mix of lodging, coworking spaces, and social events.
HI NYC Hostel: Located on the Upper West Side, this hostel provides affordable accommodation, free Wi-Fi, and communal spaces perfect for networking.
Airbnb: Renting a studio or sharing an apartment can be cost-effective and allow you a glimpse into the life of a New Yorker.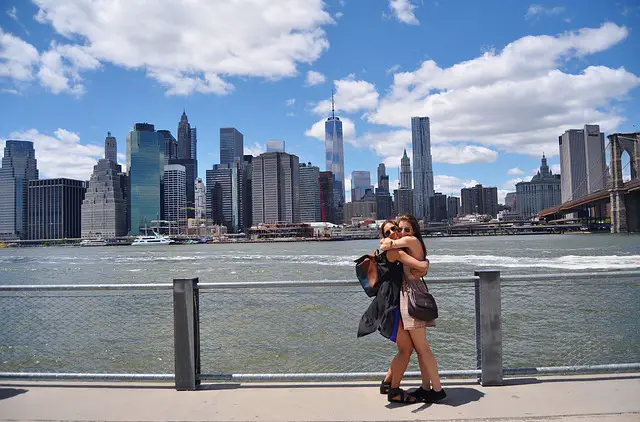 Networking Opportunities
Meetup: Platforms like Meetup have numerous groups tailored for digital nomads, entrepreneurs, and tech enthusiasts. Events range from casual coffee chats to more formal conferences.
Digital Nomad NY Events: Periodically, dedicated events for digital nomads are held where you can share experiences, collaborate on projects, or simply socialize.
Balancing Work and Leisure
Green Spaces: Take breaks in Central Park or the Brooklyn Botanic Garden. These green havens can be refreshing amid the urban hustle.
Cultural Dose: The Metropolitan Museum of Art, MoMA, and the Guggenheim offer artistic inspiration.
Broadway and Off-Broadway: Catch a show in the evening. It's a perfect way to relax and immerse in the city's vibrant arts scene.
Local Eateries: NYC is a culinary mosaic. From Manhattan's upscale restaurants to Queens' street food, there's a palate-pleaser for everyone.
*Staying Fit
Yoga to the People: This donation-based yoga studio offers classes for all levels.

NYC Parks: Many parks offer free fitness classes, from Zumba to Tai Chi.

Biking: Rent a Citi Bike and explore. It's both exercise and sightseeing combined.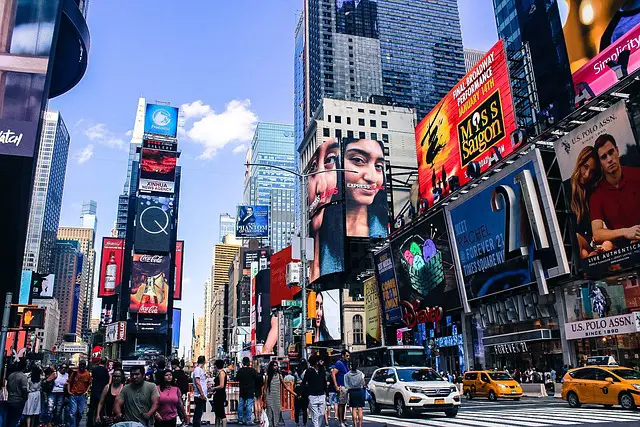 Navigating the City
MTA Subway: The most cost-effective way to traverse the city. With 24-hour service, you can roam freely without burning a hole in your pocket.
Walking: Often, the best way to explore NYC is on foot. Plus, it's free and healthy!
New York City, with its dynamic energy and endless opportunities, is a dream for many digital nomads. It offers the perfect blend of work and leisure, ensuring you remain productive while soaking in all the city has to offer. Whether you're brainstorming in a Brooklyn café or typing away in a Manhattan skyscraper, NYC ensures you're always at the crossroads of creativity and connectivity.
For the digital nomad, the Big Apple doesn't just promise a bite of its famed attractions; it offers a slice of its spirited, relentless, and inspiring life.
So, pack up your laptop, your dreams, and your wanderlust, and let NYC be your next remote office.
Practical Tips and Insider Knowledge
Stepping into the shoes of a digital nomad in NYC involves more than just setting up a mobile workstation. Here's some insider knowledge to ensure you blend seamlessly into the city's fabric and live like a local.
Budgeting in NYC
New York City can be expensive, but with a few smart decisions, you can manage your budget effectively:
City Pass: If you're planning to visit several attractions, consider investing in a City Pass. It offers discounted entry to various iconic spots.

Happy Hours: Many bars and restaurants offer happy hour deals. Not only can you save money, but it's also a fantastic networking opportunity.

Grocery Stores and Cooking: While the NYC dining scene is irresistible, consider cooking occasionally. Local grocery chains like Trader Joe's or local farmers' markets offer quality ingredients at reasonable prices.

Local Lingo and Etiquette
"On line" not "in line": In NYC, you'll hear locals say they're "on line" at the store, not "in line."

Walking: New Yorkers walk fast. If you need to stop on the sidewalk, step aside so you don't block the flow.

Tipping: It's customary to tip around 15-20% in restaurants, bars, and taxis.

Safety Tips
NYC is generally safe, but like any big city, it's important to be aware:
Stay Vigilant: Especially in crowded areas or late at night.

Avoid Flaunting Valuables: Keep your gadgets secure and avoid displaying them unnecessarily.

Know Your Surroundings: Some areas might be less safe at night. Always research before heading out.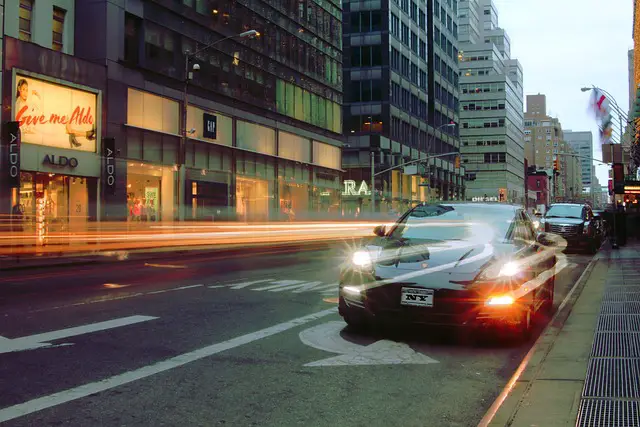 Local Festivals and Events
New York City is a hub for cultural activities:
Tech and Startup Events: NYC hosts numerous tech conferences and startup events. Stay updated on platforms like Eventbrite.

Street Festivals: From the San Gennaro Feast in Little Italy to the West Indian American Day Carnival in Brooklyn, the city's cultural diversity shines through its festivals.

Parades: The Thanksgiving Day Parade, Pride Parade, and Chinese New Year Parade are just a few of the spectacles that NYC hosts.

Stay Connected
Public Wi-Fi: NYC offers free public Wi-Fi in many parks and public areas. However, for security reasons, avoid accessing personal or sensitive data when connected to public networks.

Local SIM Cards: Companies like T-Mobile or AT&T offer flexible short-term plans perfect for digital nomads.

Embrace the Unexpected
One of the charms of NYC is its unpredictability. From impromptu jazz performances in Central Park to random celebrity sightings in SoHo, always be ready for surprises.
Final Thoughts
New York City is not just a destination; it's an experience. For a digital nomad, the blend of professional opportunities and personal adventures is unmatched. With the city's skyline as your backdrop and its vibrant streets as your playground, every day in NYC is a new chapter waiting to be written.
As you juggle work with wanderlust, NYC constantly whispers in your ear, telling tales of its glorious past, dynamic present, and the promise of a shining future. All you need to do is listen, explore, and let New York City transform your digital nomad journey into an unforgettable saga.