What all does Opryland Hotel have?
Nestled in the heart of Nashville, Tennessee, Opryland Hotel, officially known as Gaylord Opryland Resort & Convention Center, is a destination that offers a unique blend of entertainment, relaxation, and southern hospitality. With over 2,000 guest rooms, this luxurious hotel complex is the largest non-gaming hotel in the United States, and a premier destination for both leisure and business travelers. In this comprehensive guide, we will explore the various aspects of Opryland Hotel, including its history, accommodations, dining options, entertainment offerings, and other amenities.
History of Opryland Hotel
Opryland Hotel was first established in 1977 as a way to accommodate visitors to the Opryland USA theme park and the iconic Grand Ole Opry House. Over the years, the hotel has expanded and evolved, becoming a destination in its own right. The hotel is now owned and operated by Marriott International under their Gaylord Hotels brand, and it has gained a reputation for its stunning architecture, lush gardens, and exceptional southern hospitality.
Accommodations
Guest Rooms: Opryland Hotel offers a variety of guest rooms to suit the needs of every traveler. Rooms range from traditional guest rooms with modern amenities to spacious suites with separate living areas, ideal for families or business travelers. Each room boasts elegant décor that reflects the charm of the south, as well as comfortable beds, flat-screen TVs, and high-speed internet access.
Atrium View Rooms: For guests seeking a unique experience, Opryland Hotel offers atrium view rooms that overlook the hotel's breathtaking indoor gardens. These rooms feature floor-to-ceiling windows, providing stunning views of the lush landscaping, waterfalls, and rivers that wind through the hotel's atriums.
Club Level Rooms: For an elevated experience, guests can opt for club level rooms, which grant access to the hotel's exclusive Club Lounge. This private space offers complimentary breakfast, evening hors d'oeuvres, and a selection of beverages, along with personalized concierge services.
Dining Options
Opryland Hotel offers a diverse array of dining options, ensuring that guests can find a cuisine to suit their taste. Some of the hotel's notable restaurants and eateries include:
Old Hickory Steakhouse: A fine dining establishment featuring premium steaks, artisanal cheeses, and an extensive wine list, Old Hickory Steakhouse offers an elegant and intimate dining experience.
Cascades American Café: Located within the hotel's magnificent Cascades Atrium, this casual café serves classic American fare, including sandwiches, salads, and entrées, in a serene setting surrounded by waterfalls and lush greenery.
Solario Cantina: This lively Mexican restaurant offers a variety of traditional dishes, from tacos and fajitas to enchiladas and chile rellenos, along with a selection of margaritas and other specialty cocktails.
Conservatory Wine Bar: A sophisticated wine bar located within the hotel's Garden Conservatory Atrium, offering an extensive selection of wines, as well as a menu of small plates and charcuterie boards.
Stax: A grab-and-go eatery providing a variety of quick and delicious options, including burgers, sandwiches, salads, and more.
Entertainment and Activities
Opryland Hotel offers a plethora of entertainment options and activities for guests to enjoy during their stay. Some of the highlights include:
Grand Ole Opry: Just a short walk from the hotel, the Grand Ole Opry is a must-see for any music lover. This iconic venue, known as the "Home of American
Music," showcases the best in country music, bluegrass, folk, and more. Guests can attend live performances, take a backstage tour, or even catch a live radio broadcast of the world-famous Grand Ole Opry show.
SoundWaves: Opryland Hotel is home to SoundWaves, an upscale indoor/outdoor water attraction that spans over four acres. This state-of-the-art water park features multiple water slides, a lazy river, a wave pool, and various activity pools for both adults and children. SoundWaves also offers private cabanas, a full-service bar, and dining options, ensuring a fun and relaxing experience for the entire family.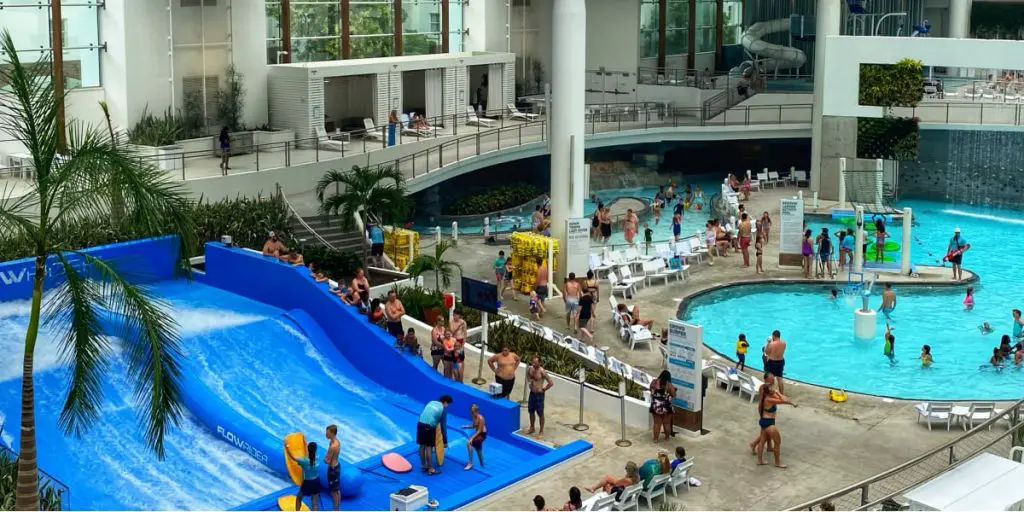 Gaylord Springs Golf Links: Golf enthusiasts will appreciate the hotel's proximity to Gaylord Springs Golf Links, an award-winning, 18-hole championship golf course designed by renowned architect Larry Nelson. The course offers a challenging yet enjoyable experience for golfers of all skill levels, complete with beautiful views of the surrounding Tennessee landscape.
Delta Riverboat Tours: Guests can embark on a scenic riverboat tour through the hotel's Delta Atrium, offering a unique perspective of Opryland Hotel's stunning gardens and architectural features. The guided tour provides insight into the hotel's history and the various plants and wildlife that inhabit the atrium.
Ryman Auditorium: A short drive from Opryland Hotel, the historic Ryman Auditorium is another must-visit venue for music lovers. Known as the "Mother Church of Country Music," the Ryman has hosted countless legendary performers and continues to be a premier destination for live music and entertainment.
Opry Mills Mall: Adjacent to the hotel, Opry Mills Mall is Tennessee's largest outlet and value retail shopping center, featuring over 200 stores, restaurants, and entertainment venues, including a movie theater and an indoor go-kart racing track.
Spa and Fitness Facilities
Relâche Spa: Opryland Hotel's on-site spa, Relâche, offers a luxurious escape for guests looking to relax and rejuvenate. The spa provides a wide range of treatments, including massages, facials, body wraps, and salon services. Guests can also take advantage of the spa's steam room, sauna, and indoor pool.
Fitness Center: For guests who wish to maintain their fitness routine during their stay, Opryland Hotel features a fully-equipped fitness center, complete with cardio machines, strength training equipment, and free weights. The fitness center also offers a variety of group exercise classes, as well as personal training services.
Convention and Event Facilities
As part of the Gaylord Hotels brand, Opryland Hotel is well-equipped to host large conferences, meetings, and events. The hotel boasts over 700,000 square feet of flexible meeting and event space, including multiple ballrooms, breakout rooms, and exhibit halls. In addition to its vast indoor spaces, the hotel also offers picturesque outdoor venues, such as the Magnolia Lawn and the Delta Island Terrace. Opryland Hotel's experienced event planning team is available to assist with all aspects of event organization, from catering and audiovisual services to décor and entertainment.
Conclusion
Opryland Hotel is truly a one-of-a-kind destination, offering an unparalleled combination of luxury accommodations, diverse dining options, world-class entertainment, and exceptional amenities. With its stunning architecture, lush gardens, and warm southern hospitality, Opryland Hotel provides an unforgettable experience for guests seeking a unique and memorable stay in Nashville. Whether visiting for business or leisure, Opryland Hotel is the ideal choice for those looking to immerse themselves in the vibrant culture and rich history of Music City.